CAREER GROWTH
SYSTEM ADMINISTRATOR: TOP 10 IT JOBS IN THE PHILIPPINES 2022
AUGUST 18, 2022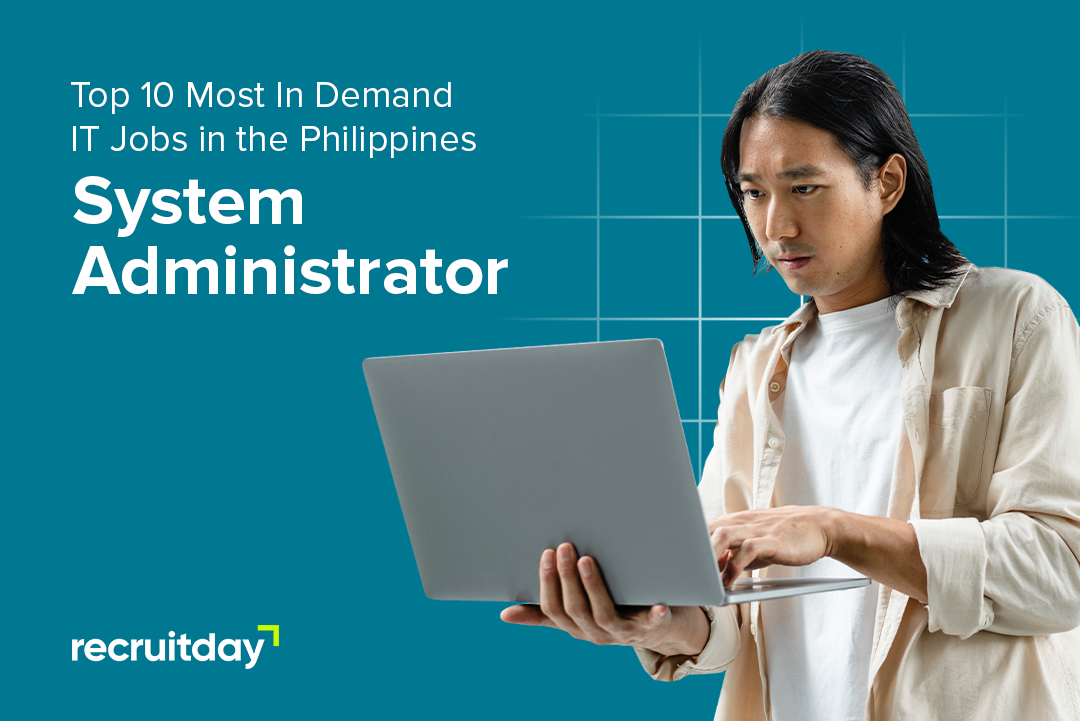 Welcome to Recruitday's Blog Series: Top 10 IT Jobs in the Philippines 2022! Last week, we talked about the job of software developers. Today, we'll discuss number two on the list: system administrator. For the complete list of the top 10 most in-demand IT jobs, you can read it here.
Let's begin.
A system administrator, or a sysad, is an organization's go-to person when computer or network problems occur. They work on the IT infrastructure in administration, management, and support. Interaction with the end-users is frequent through ticketing systems, which are used to report problems and provide responses and solutions.
Sysads carry a lot of responsibilities. For larger businesses, the roles may be divided into database administrator, security administrator, and network administrator. Still, for small organizations, a sysad may wear many hats.
User Administration
Sysadmins are the first to interact with end-users to resolve tech issues since one of their duties is to ensure reliable and efficient IT systems. It involves user administration work, including identity management and access to dedicated technical support.
System Maintenance and Health Monitoring
Keeping the IT system working is a sysad's responsibility. Therefore, they're adept at troubleshooting and fixing problems affecting the system's performance and access by users. They conduct regular upgrades tailored to the needs of the users and the business.
In addition, to prevent problems, sysads also monitor system health to spot anomalies such as unauthorized network access and data transfer.
Documentation
It's important to document all IT usage within an organization to create better tech investments. Sysads are responsible for keeping records of end-user requests, IT issues, business requirements, and regulatory compliance.
Recovery
In case of network disasters, sysads are there for backup and recovery. They utilize automated software programs or replace hardware and software components to fix the damage incurred by various tech problems. They also help users to recover access to deleted or unavailable data.
Application Compatibility
Software systems' compatibility with an IT infrastructure is crucial for the network's performance. Sysads ensure application compatibility through testing server load performance and installing or upgrading hardware components.
Web Administration and Configurations
Organizations implement policies to ensure that access to the web is safe and secure. Sysads see that the guidelines are followed through web service administration and configurations using automation and configuration management tools.
Network Administration
Suppose a sysadmin has a network engineering background. In that case, they may also perform critical network administration activities to keep network integrity and prevent interactions that don't comply with organizational policies.
Network Security
Sysads monitor and analyze a network, manage identities and access, maintain hardware security, and handle software licensing, updates, and patching. All these are part of network security, so sysads typically work with security specialists and engineers.



Being a sysad means carrying out all these duties and responsibilities. They may sound like hard work, and it is. However, pursuing this career is also worth it if you're looking for growth in your career, experience, and earning potential.
Advantages of a Career in System Administration
If you're already taking the path to system administration, you're off to a great start. On the other hand, if you're still wondering whether this is the right track, here are some points you may want to consider.
Job Growth

The IT industry keeps expanding amid the rapid digitalization of services and technological advancement. Technology is almost everyone's part of life. Hence, businesses and organizations need a sysad to keep up, meaning opportunities for career growth are endless.

Diversity

Just because you're in IT doesn't mean that you can only work at technology companies. Being a sysad will give you diverse choices in the industry where you want to work. Hospitals, manufacturers, retailers, the military, government institutions, the academe, and more need computers, networks, and the internet to operate; they will need a sysad in their teams.

Earning Potential

You could make a decent living from a career in system administration. In the Philippines, you could earn an annual salary of as much as

PHP 600,000 as a sysad

if you have at least two years of experience. The job is challenging, but it pays well.
Combining the challenges of being a sysad and the job's advantages, a career in this field is a fulfilling journey to personal growth. The sky is the limit for all the learnings and skills enhancements you could gain from experiences and upskilling opportunities. Most of all, you're doing it all while achieving financial stability.
That's it for today's discussion of the job of a system administrator. Next week, we'll talk about the third on the list of the top 10 in-demand IT jobs in the Philippines: data engineering. Stay tuned!
Ready to join Recruitday's talent community of driven and motivated tech professionals? Check the available tech jobs in your chosen track, register in training courses to upskill, or refer your friends and earn today.
AUGUST 18, 2022
Find Your Next IT Career
Job opportunities in different tech roles. For all career levels.
CREATE AN ACCOUNT