FINDING A JOB
TOP 10 IT JOBS IN THE PHILIPPINES 2022: A RECRUITDAY BLOG SERIES
AUGUST 04, 2022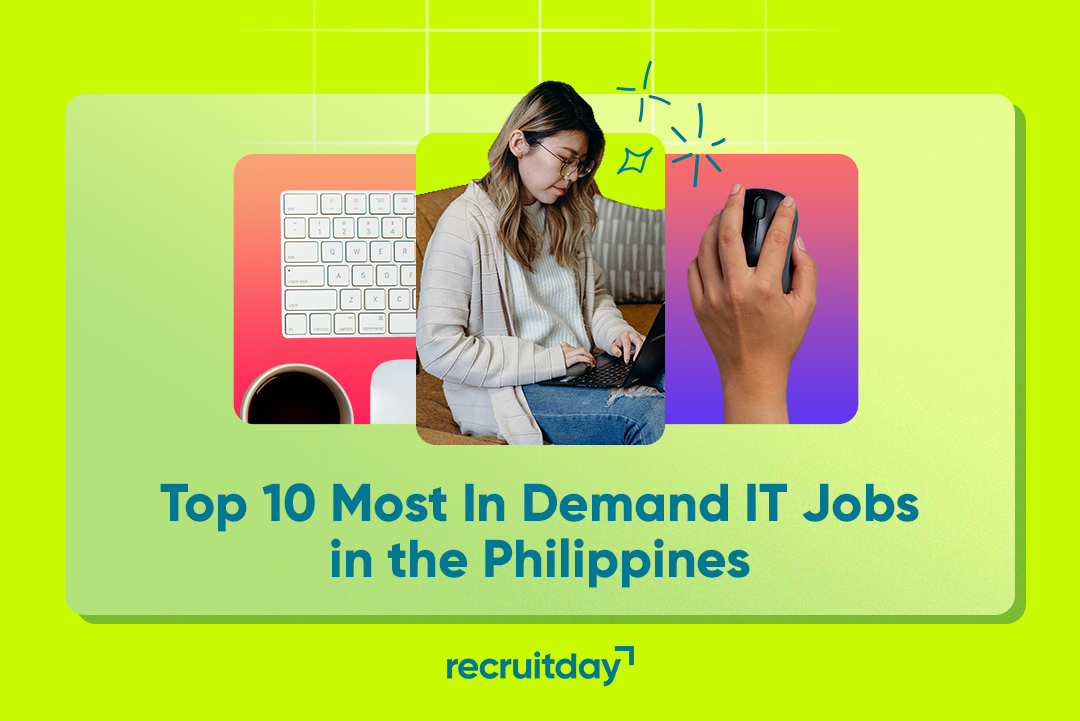 The Philippines' IT industry has been growing since the 1980s, with technological innovations and internet connectivity triggering the digitalization of services. Presently, countless services are automated, and software applications are sprouting like mushrooms to provide convenience for consumers to access their needs. When the Covid-19 pandemic hit, online services and communications became lifesavers for consumers and businesses.
Companies strive to keep up with the changing market by growing their tech teams with qualified professionals specializing in different IT tracks. It's excellent news for IT professionals as more career opportunities await them.
Whether you're an IT professional, a fresh graduate, or a career shifter, it's helpful to know the top tech careers that never go out of the list of in-demand IT jobs in the country.
Here's a quick rundown of the top 10 but watch out for Recruitday's upcoming articles as we delve deeper into each career field.
Top 10 in Demand IT Jobs in the Philippines
1. Software Developer
It's the software developers who make computer programs and applications possible for computer desktops and mobile devices. The three most common types of developers are front end, back end, and full stack. Front end developers focus on the elements users can see on a program's interface. In contrast, the back end works behind the scenes by ensuring the smooth operation and storage of data running on the system. Combine the work of front end and back end developers, and you'll get a full stack developer, who is also known as the jack of all trades in the software development niche.
Apply to Front End Developer jobs in the Philippines
Apply to Back End Developer jobs in the Philippines
Apply to Full Stack Developer jobs in the Philippines
2. System Administrator
A system administrator, also called a sysad, is the one responsible for maintaining the optimal performance of an organization's IT and support systems to prevent any operational disruption. Sysads "keep the lights on" in every computer, server, and internet connection used in the organization.
Apply to System Administrator jobs in the Philippines
3. Data Engineer
Data engineers are highly needed in organizations with massive data ecosystems since their primary role is to build data pipelines and prepare them for efficient analysis. They integrate, organize, and cleanse all the data and its structure for analysts to access and interpret them with ease.
Apply to Data Engineer jobs in the Philippines
4. QA Engineer
Before a software product or program launches, it will have to go through a QA engineer first. QA engineers find and fix bugs before releasing the program out into the world. They work with developers in different industries such as healthcare, food and beverage, and automotive.
Apply to QA Engineer jobs in the Philippines
5. Mobile Developer
A mobile developer's job is similar to a software developer's but focuses on mobile technology. They create mobile apps for Android and iOS platforms. Given the nature of their role, they must be adept in different programming languages and development environments like Java, Objective-C, and C#, Swift, HTML5, and Flutter.
Apply to Mobile Developer jobs in the Philippines
6. Security Operations Analyst
While almost everything is now accessible online, security is of utmost importance. A security breach disturbs business operations and puts individuals' personal and financial safety at risk. Security operations analysts are the professionals responsible for keeping computer and network systems safe and protected from cyberattacks or infiltration. They monitor the systems, implement preventive measures, and respond to security breaches.
Apply to Security Operations Analyst jobs in the Philippines
7. CRM/ERP Consultant
Client Relationship Management (CRM) and Enterprise Resource Planning (ERP) are the most common business applications that organizations use to help run and manager their day-to-day operations. A CRM/ERP consultant's job is to assist the company in utilizing these technologies effectively to improve decision-making, organization of tasks, and customer relations, among others. Most consultants focus on CRM/ERP programs such as Microsoft Dynamics, Salesforce, and SAP.
Apply to Microsoft Dynamics Consultant jobs in the Philippines
Apply to Salesforce Consultant jobs in the Philippines
8. Project Manager
A project manager is responsible for ensuring that the organization's IT projects are delivered on time, on scope, and within budget. They oversee the planning, execution, and delegation necessary for completion. They work in a range of industries managing various tech initiatives such as software, mobile applications, web development, database management, and cloud migration.
Apply to Project Manager jobs in the Philippines
9. Data Scientist
A data scientist's role is integral in business decision-making. Their primary responsibility is to collect, analyze, and interpret massive amounts of data to understand behavior patterns that an organization can rely upon when making critical decisions. Data scientists use advanced analytics tools such as machine learning and predictive modeling.
Apply to Data Scientist jobs in the Philippines
10. DevOps Engineer
The job of a DevOps engineer is crucial in closing the gap between the development and the operations side of IT. These two teams work separately and might have different goals, so the task of unifying their systems goes to the DevOps engineer. Suppose the development team wants to build a new feature for an app, but the operations team's priority is to maintain the app's stability. In that case, the DevOps engineer will make the complex process of fusing the two more effortless and manageable. Aside from technical skills, DevOps must also have people skills to bridge the two teams.
Apply to DevOps Engineer jobs in the Philippines
And that's a wrap for the top 10 tech jobs you may want to check if you're looking to advance your career in the IT industry. We'll have deeper discussions about each of these roles throughout the series. Next week, we'll talk about the career of a software developer, so stay tuned!
Ready to join a tech workforce of driven and motivated professionals? Check the available tech jobs in your chosen track, register in training courses to upskill, or refer your friends and earn today.
AUGUST 04, 2022
Find Your Next IT Career
Job opportunities in different tech roles. For all career levels.
CREATE AN ACCOUNT