CAREER GROWTH
SOFTWARE DEVELOPER: TOP 10 IT JOBS IN THE PHILIPPINES 2022
AUGUST 10, 2022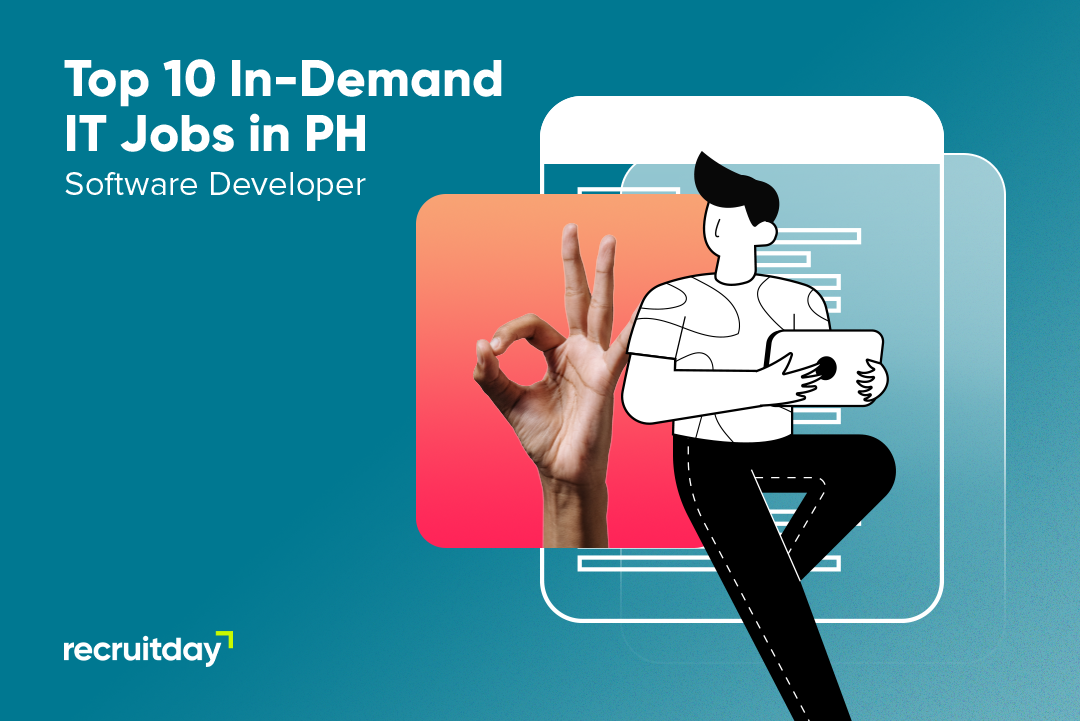 Welcome to Recruitday's blog series about the top 10 in-demand IT jobs in the Philippines. Today, we'll discuss the career of a software developer as the number one in-demand job on our list. For the complete list of the most in-demand IT jobs, check out our previous article.


Now, on to our topic.
Software developers have some things in common: the love for innovative technology and solving puzzles and challenges. Suppose you're a person who gets intrigued by technological changes and advancements and is always the first to know of new gadgets and applications. In that case, you'll likely fit in with the software development field.
What does a software developer do, anyway?
These professionals are behind the massive array of computer and mobile programs that individuals and businesses use daily. From computer games and social media platforms to budgeting and health and fitness applications, they design and develop the programs based on users' needs. With an understanding of consumer behavior patterns, software developers focus on creating a specific app or building more extensive networks of systems that support other programs.
The two main classifications of software developers are the applications software and systems software developers.
Applications software developers mostly create programs for consumers; therefore, their work involves understanding consumer needs and challenges to provide the right software solutions. They're also responsible for monitoring the program's performance and making modifications, fixes, and updates to keep the app running smoothly.
On the other hand, systems software developers work on operating systems-level programs that organizations need to conduct their day-to-day operations. They work with organizations in different industries, including medical, industrial, communications, business, military, and computing applications.
While there are two main classifications of software developers, companies fill several job roles. The most common roles are front end, back end, and full stack. What are their differences?
Front End – front end developers work on all the elements a user sees on a program or application. Like an interior designer, front end developers ensure that the program's appearance is appealing and easy to navigate for the users.
Back End – if front end developers are the interior designers, back end developers are the architect. They work on the foundation consisting of all the elements the user can't see on the interface. They create a system that processes the data the program runs and receives from the user.
Full Stack – full stack developers are the jack of all trades. They have front end and back end skills, so they work on both sides of an app. However, companies still look for front end and back end developers since building and maintaining a software program is too much work for a single full stack developer.
How about the duties of a software developer?
Overseeing the coding is one of your primary duties as a software developer since that's where the actual software development occurs. You will also have to study the users' lives, behaviors, wants, and pain points to create a valuable and functional program.
You will create the design, including flowcharts and a step-by-step process that programmers will follow to write the code. In addition, you will take responsibility for testing, updates, and coordinating with other IT professionals to keep the program at its best.
What skills does a software developer need?
Software development is a combination of technical and soft skills. Even though you have a knack for designing software programs, you won't succeed if you don't know how to work well with others.
In terms of technical skills, many employers require the following:
Java

Javascript

SQL

Python

Microsoft C#

Linux

Git

DevOps

Oracle

Software engineering
Having these technical skills gives you an edge, but so do soft skills like the following:
Problem-solving

Teamwork

Analytical and strategic

Motivated

Excellent communicator
Knowing how to problem solve, analyze the situation, and collaborate with other professionals will help you apply your technical skills best.
How much do software developers earn, and where do they work?
In today's digital world, IT professionals, including software developers, are in high demand, thus increasing opportunities to earn and work in various industries. According to Glassdoor.com, the average salary range of a software developer in the Philippines is P40,000 to P75,000 per month.
Almost every industry needs software developers to keep up with technological advancements. Application and system software developers can work in computer systems design, finance, insurance, manufacturing, healthcare, and others.
Many developers work in traditional company environments, but since the Covid-19 pandemic began, businesses are now using a hybrid model, which allows IT professionals to work remotely.
Are you interested in a career in software development?
Ifyou're a beginner and want to pursue software development, it's best to develop your tech skills by taking courses or training programs. For IT professionals wishing to advance, joining tech communities will help grow your skills and expand your network.
The road to success in this IT track could be long and hard. Still, with patience, perseverance, and a supportive talent community, you can achieve whatever goals you set.
Next week, we'll discuss the second most in-demand IT job on our list, the System Administrator. Watch out for our next article!
Ready to join Recruitday's talent community of driven and motivated tech professionals? Check the available tech jobs in your chosen track, register in training courses to upskill, or refer your friends and earn today.
AUGUST 10, 2022