TOP 3 BPOS HIRING NOW
MARCH 14, 2019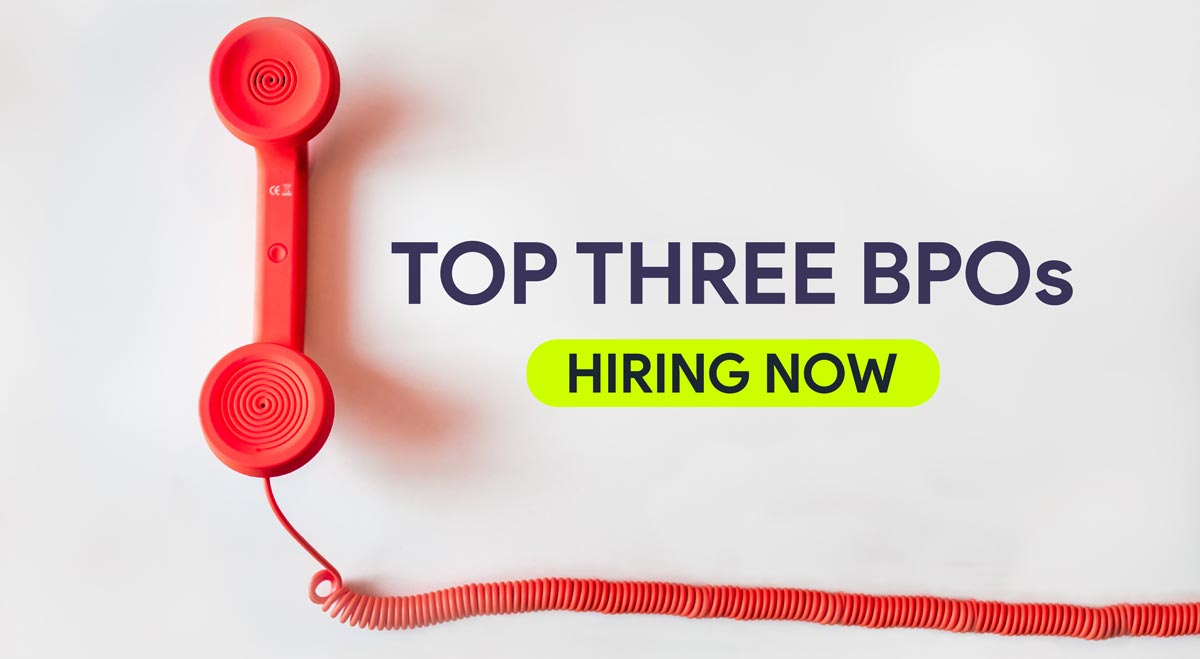 The Business Process Outsourcing (BPO) industry is one of the fastest growing sectors in the Philippines, providing high-quality, well-paying jobs to millions of Filipinos. As of November 2017, the BPO Industry has employed about 1.15 million people, according to
Reuters
with a projection of 1.3 million to 1.5 million new jobs in the coming years (
ASEAN Briefing
).
As the BPO Industry continues to grow, more jobs are made available to Filipinos around the country. Notably, a lot of openings are located in Iloilo City and Bacolod. Here are three of the top BPOs hiring now.
Office Address: Transcom Center Building, Last Fiestas Road, Fontera Verde Compound, Pasig City, Metro Manila
Good news for job seekers from Bacolod, Iloilo, and Pasig - Transcom is looking for hundreds of Customer Service Representatives and they need them now.
Transcom is one of the biggest names in the BPO industry and they have been in the Philippines since 2007. Their facilities are located in Pasig, Mandaluyong, Iloilo, and Bacolod. Transcom is a global customer experience specialist with services that provide customer care, sales, technical support, and credit management.
Perks of working at Transcom:
HMO coverage starting on the first day of employment
Free shuttle services to all employees with a wide coverage of pick-up and drop-off points
Free meals to employees with perfect attendance through the Transcom Rewards Card
Child-care facilities for working parents with available on-site nurses to care for the little ones
On-site pharmacy for medical and nutritional needs, plus health and wellness programs
Mutual savings benefits which eligible employees to save 2-10% of their monthly basic salary
Discounted rates for books and school supplies through their partnership with the leading bookstore in the Philippines
Many more as soon as you join the Transcom family
General Requirements for Customer Service Representatives at Transcom
At least a K-12 high school graduate
High School Diploma, Vocational Diploma/Short Course Certificate, Bachelor's/College Degree from any field
No work experience required
18 years old and above
Proficient in English (both spoken and written)
Open to a flexible working schedule
Must have advanced Customer Service skills, and Intermediate-Advanced Computer Skills
Apply to Transcom Jobs Now
---
Office Address: 86 E. Rodriguez Jr. Avenue, Brgy. Ugong Norte Libis, Quezon City, Metro Manila
Jobs available in Iloilo, Muntinlupa, and Quezon City for a variety of accounts such as Healthcare and Financial. Speak Thai? HGS needs you!
Hinduja Global Solutions (HGS) is a 6,500 strong company that operates in Quezon City, Muntinlupa, and Iloilo. They cater to clients in the consumer electronics and technology sector. They started operations in 2004 as an in-house domestic call center operator and later transformed into an international contact center provider after they secured major contacts from Fortune 500 banking & financial services and consumer electronics companies.
HGS has employee welfare policies designed to help employees create a healthy work-life balance where every employee benefits from the organization - both professionally and personally.
Recruitment sites:
HGS Cyberpark
86 E. Rodriguez Jr. Ave. Brgy. Ugong Norte Libis, Quezon City
HGS Eastwood Site
8th flr. 1880 Tower, Eastwood Libis, Quezon City
HGS Alabang
G/F of HSBC Bldg. Filinvest One Building Northgate Cyberzone Filinvest City Alabang, Muntinlupa City
HGS Iloilo
2nd Floor Ayala Iloilo Technohub Building 1  Boardwalk Ave, Iloilo City
Perks of working at HGS:
Competitive compensation package
HMO coverage for employee + dependents
Free parking
Leave conversions for SL & VL
Medical and life insurance
Account incentives or bonuses
Flexible allowances
Other perks depending on position:
Guaranteed 14th month pay
15% - 20% night differential
Weekends off schedule
Performance-based incentives up to P160k
At HGS, you can have your initial interview over the phone and get hired in one day.
Apply to HGS jobs now
---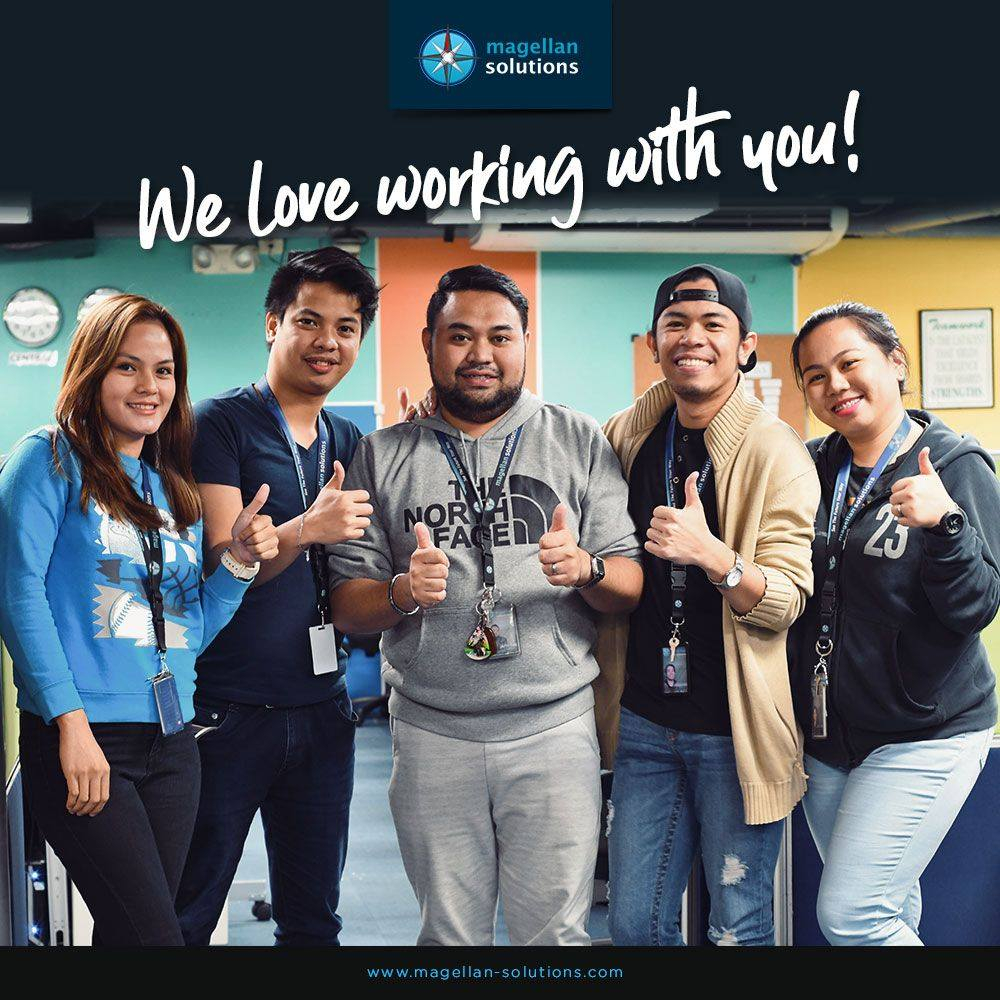 Office Address: PB Mezzanine Floor, Summit One Tower, 530 Shaw Blvd., Mandaluyong City
Hundreds of jobs available for Customer Service Representative and Outbound Sales Representative in Mandaluyong.
Magellan E-Support Services provides in-bound customer services, outbound sales, technical assistance, and back-office support to multiple clients over the past 12 years. They are a Filipino owned and managed enterprise that services small to medium businesses in the US, UK, and Australia.
Perks of working at Magellan:
Paid holidays
Maternity & paternity leave
Employee discounts
Paid vacation leave
Medical/Health Insurance
Performance bonuses
Night differential (for Outbound Sales Rep)
Free meal (for Outbound Sales Rep)
Requirements for Customer Service Representative:
At least a K-12 High School graduate
At least 6 months BPO experience (newbies still welcome to apply)
Average to excellent English communication skills
Apply to Magellan jobs now
---
MARCH 14, 2019