CAREER GROWTH
SECURITY OPERATIONS ANALYST: TOP 10 IT JOBS IN THE PHILIPPINES 2022
SEPTEMBER 15, 2022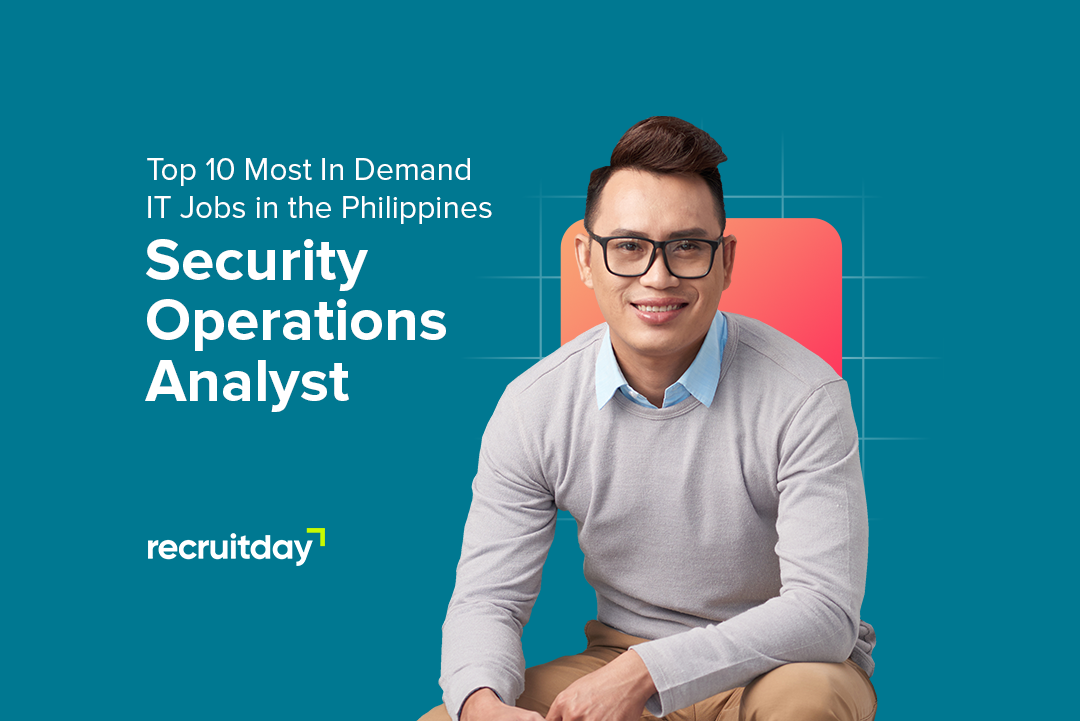 Welcome to Recruitday's Blog Series "Top 10 IT Jobs in the Philippines 2022," where we tackle tech careers that are always hot in the industry. Last week, we finished the first half of the list with the job of a mobile developer. Today, we start the second half with the role of a security operations analyst.
Here we go!
Cybersecurity professionals are now needed more than ever in the Philippines. Businesses and organizations joining the rapid digitalization of services make the ground fertile for cybercriminals. According to Kaspersky's 2021 ranking, the Philippines placed fourth in the list of countries most targeted by web threats. A large part of the increasing cyberattacks was the switch to remote and hybrid work caused by the COVID-19 pandemic. Consumers are also relying on the internet for various transactions such as banking and shopping, which highly exposes them to digital threats. Therefore, IT professionals focusing on cybersecurity need to up their game to help protect organizations' assets from attacks that are getting more sophisticated.
Security operations analysts are among cybersecurity professionals with a vital role in ensuring network security. They are the front liners when it comes to digital defense. They always look for vulnerabilities and malicious activities and coordinate with network engineers to protect data and assets.
Pursuing this career will lead you to an exciting journey consisting of levels you need to achieve to become an expert.
The 3 Tiers of Security Operation Analysts
Like other IT jobs, a security operation analyst's career track is challenging, consisting of three tiers.
Tier 1: Triage – Tier 1 analysts review new alerts and categorize them into events. They then assess circumstances to handle or escalate them to level 2. They also use security tools to monitor user activities and determine whether new events pose potential threats.
Tier 2: Incident Response – Tier 2 security operation analysts deal with incidents with higher complexities. They investigate affected systems, review logs, and contain and initiate remediation actions. Aside from making security reports, they're also involved in root cause analysis and system restoration.
Tier 3: Threat Hunter – The offense is the best defense for Tier 3 analysts. They proactively search for anomalies using internal and external threat intelligence. They also implement test security controls and advanced asset protection. They conduct penetration testing and vulnerability assessments to find a network's weak spots to strengthen and address them before an attack even occurs.
This is the ladder you need to climb if you decide to become a security operation analyst. It doesn't stop here, though. You can also advance to security engineering or architecture to be the one developing the key processes and procedures that analysts of different tiers follow. Becoming a security engineer or architect makes you more qualified to become a security operation center (SOC) manager who oversees an organization's entire cybersecurity operation.
4 Benefits Security Operation Analysts Provide to Organizations
The role of security operation analysts is not as famous as other titles in the IT field. However, the impact their work has on cybersecurity can't be left ignored. You can make outstanding contributions to SOC's key goals as an analyst.
24/7 Protection

Cyberattacks don't have a schedule; they can happen anytime. Organizations and stakeholders receive continuous threat protection through uninterrupted network monitoring and analysis with the help of analysts.

Quick Response

Because of continuous monitoring, analysts can quickly investigate and categorize any event, resulting in a fast response time. In cybersecurity, it's crucial to address the problem as soon as possible. The deeper the attackers get into the system, the higher the risks to data and assets. The fast response also lowers the cost of breaches, including data loss, lawsuits, and damage to the organization's reputation.

Threat Prevention

Prevention is better than cure. Analysts help keep an eye out for potential threats so that the SOC team can take the necessary actions before the perpetrators can attack.

Better Enterprise Reputation

Security and privacy of data and assets are among the top considerations consumers, clients, and investors make when deciding to trust their properties and personal information to a business or an organization. Analysts are integral in enhancing and maintaining an organization's reputation by strengthening its cybersecurity and keeping threats at bay, giving an organization's stakeholders peace of mind.
Being a security operation analyst comes with heavy responsibilities. Still, the rewarding experience of securing private information and assets of organizations and their stakeholders is worth it. You will be valuable to companies and any group or individuals in protecting sensitive data from attacks.
The significant role of security operation analysts deserves a spot in the top 10 IT jobs in the Philippines. Next week, we'll talk about the job of a CRM/ERP consultant as the seventh top in-demand IT career in the Philippines. To view the entire list, check this article out.
Ready to join Recruitday's talent community of driven and motivated tech professionals? Check the available tech jobs in your chosen track, register in training courses to upskill, or refer your friends and earn today.
SEPTEMBER 15, 2022
Find Your Next IT Career
Job opportunities in different tech roles. For all career levels.
CREATE AN ACCOUNT