CAREER GROWTH
MOBILE DEVELOPER: TOP 10 IT JOBS IN THE PHILIPPINES 2022
SEPTEMBER 08, 2022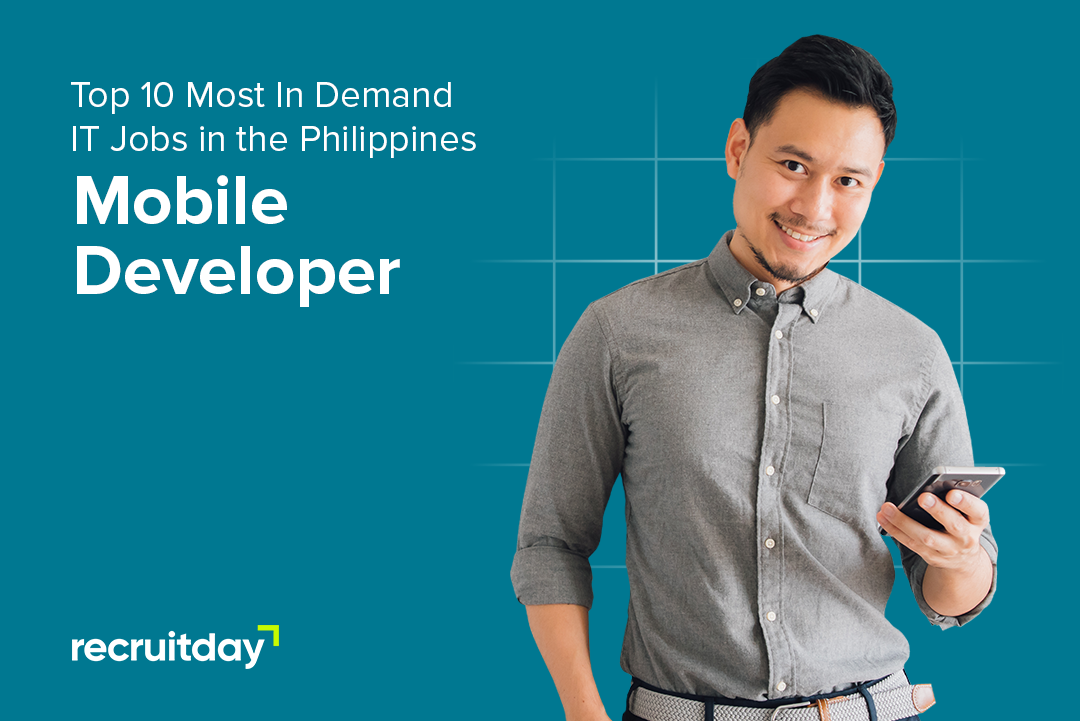 Welcome to Recruitday's blog series "Top 10 IT Jobs in the Philippines 2022," where we talk about the most in-demand tech roles and what you can expect when you pursue them. Last week, we discussed the duties and responsibilities of QA engineers. Today, we're in the fifth role on our list: mobile developers.
Mobile app development is a hot industry today. More Filipinos use their smartphones and other devices to access their social media accounts, shop, play games, and do banking transactions. According to statistics, Filipino mobile internet users spend an average of 347 minutes per day streaming videos and music and doing other online activities. Their engagement with mobile apps and devices made Filipinos among the most active mobile internet users in the Asia Pacific.
Moreover, over 1,300 Filipino publishers are releasing mobile apps on Google Play, including big names like Rocket Game Studio, Monstronauts Inc., TATAY, Big Giant Games, and TripSoft Global. With the rise of mobile apps, it's no wonder a brighter career future awaits mobile developers.



What makes mobile developers crucial in the growth of businesses and organizations, and why would IT professionals want to pursue this track?
The Necessity of Mobile Apps
Since the Covid-19 pandemic began, consumers have been switching from laptops to mobile phones to do errands and interact with others online. Companies are catching up with the behavior change. They are looking to develop mobile apps to provide customers with a one-stop interactive platform. Therefore, they're hiring mobile developers to build, maintain, and constantly update their apps.
The Freedom to Create
There's no limit when you think of mobile apps to build. Once you develop the skills and gain experience in mobile development, you can be as creative and flexible as you need to create mobile apps. You can choose to work in any industry you're drawn to, whether healthcare, gaming, government, retail, etc. Or, you can eventually set up your own mobile development business to turn your ideas into reality.
The Ever-Expanding Mobile Development Industry
The opportunity to grow, upskill, and expand is abundant in the mobile development industry in the Philippines because of the expanding reach of apps. Aside from mobile phones, other digital platforms like smartwatches and smart appliances require mobile apps to function. Daily life is becoming more digital and "smart," creating a need for new, innovative, and fresh mobile app ideas, which is beneficial for any developer.
The Decent Pay
On average, a mobile developer in the Philippines earns over Php 500,000 a year. Of course, the more advanced your skills and the relevance of your field experience, the higher the salary you can ask for. The financial stability of this career can give you a comfortable life. Also, the salary rate isn't confined to the title of "mobile app developer." Roles such as Android App Developer, iOS App Developer, Software Developer, and Front-End Developer are included in the mix.
What's Next for You?
If you're already pursuing this track, upskilling is always essential, given the rapid developments in the mobile app industry. You may also choose a specialization to master a platform. Android or iOS? It depends on where your interests lie. Going to the route of iOS development, you'd need to acquire knowledge and skills in Swift, UIKit, Storyboard, AutoLayout, XCode, and MVC. For Android developers, training in building user interfaces, RESTful services, data storage and notifications, material design guidelines, and activities and fragments is essential.
Beginners have different learning paths. Some get a formal education to earn a degree, while others, including career shifters, teach themselves and attend courses. One way is to undergo a coding camp to learn valuable skills necessary in mobile development.
Mobile developers in the Philippines have a positive future ahead of them. The road might be tricky and challenging, like other IT career tracks. Still, with hard work, passion, and perseverance, you can have endless opportunities to create, expand, earn, and help various industries to provide products and services to the people.
If you want to see the list of other in-demand IT jobs in the Philippines, check this article. Next week, we're coming to the second half of our list. We'll start with Security Operations Analyst and why it's a great IT career choice. See you then!
Ready to join a tech workforce of driven and motivated professionals? Check the available tech jobs in your chosen track, register in training courses to upskill, or refer your friends and earn today.
SEPTEMBER 08, 2022
Find Your Next IT Career
Job opportunities in different tech roles. For all career levels.
CREATE AN ACCOUNT