EMPLOYERS/HR
THE BENEFITS OF PASSIVE IT RECRUITMENT FOR HIRING TECH TALENT
FEBRUARY 03, 2023
Since the global pandemic broke out, there has been a drastic increase in the demand for IT professionals among tech and non-tech businesses. According to the Bureau of Labor Statistics (BLS), tech occupations grew by 1.2% in May 2020, despite having 17.6 million fewer job positions in that same year compared to May 2019. Moreover, a survey from Upwork has indicated that remote work will likely increase in tech roles through 2025.
Because of this acceleration in the digital transformation processes, there has been a shortage of qualified tech candidates. From SMBs to larger enterprises, the competition is tough. Most tech professionals apply for higher-profile corporations, which challenge more niche and lesser-known businesses to step up their recruitment game.
As a business owner, you need every possible advantage to stay ahead of the competition. Hiring managers require an effective way to widen their talent pool, rather than only considering candidates who are actively applying for jobs. These best practices include building a dedicated landing page, re-engaging with unsuccessful candidates, reconnecting with former employees, and keeping candidates who are not ready to apply interested in your company.
This is where passive IT recruitment comes in. Even though passive tech professionals are currently employed and not actively looking for a new job, they may just be waiting for a better career opportunity to land in their lap. By focusing on attracting these candidates, you can have a better chance of filling your tech job vacancy quickly.
To help you further understand how this strategy can drive your hiring process, Recruitday discusses the benefits of reaching passive candidates and shares some tips for sourcing the best tech talent.
Advantages of Targeting Passive Tech Job Seekers
Broader Talent Pool
By reaching passive talent, you can attract a larger number of experienced tech professionals instead of connecting with a small percentage of candidates looking for new roles. An article on LinkedIn states that 70% of the global workforce is composed of passive talent that are not active job seekers, and the remaining 30% are actively looking for new jobs. This means there's a high chance that more potential candidates will notice your job advertisements, including the opportunities and benefits you provide as an employer. Even those who don't plan to leave their current jobs may consider applying once they see something from your company or the position that interests them.
Some of the ways you can attract passive candidates to open roles within your company include:
Sending out personalized emails

–

Statistics

from LinkedIn show that email is the most used (51%) and most effective (39%) medium to reach passive talent. However, you must know how to make a well-crafted personalized email that would encourage a passive candidate to consider your job opening even though they're happy at their current job. The message must contain the reason why you're reaching out and where you found their contact information. There must also be a brief explanation of what drew your attention to particular candidates, including their specific skills or accomplishments that are related to the company or the job role. Lastly, the email must include standard job opportunity information and a call-to-action in case they want to proceed with the hiring process.

Sharing your job opening on social media –

You can especially do this strategy using Facebook and Twitter. On Facebook, you can create an engaging post about your job opening and share it with your followers. For a wider reach, you can utilize Facebook's advertising tool to boost your post and be able to extend your engagement past your page's followers. On Twitter, you can create general interest in your business or industry and get retweets by creating fun and interesting tweets about your company or job opening. To increase the chance that potential candidates will see your post, make sure to produce multiple tweets regularly about an open position and other necessary information about it.

Using hashtags on social media

– With hashtags, you can group together conversations or content around a specific topic. Hashtags can be used on any social media platform, including Twitter, Instagram, and Facebook. For example on Twitter, if you're looking for a data analyst, you could search for hashtags like #dataanalytics or #datascience. You'll likely find people who tweet interesting insights or answer questions regarding the topic you're looking for. If you see a potential candidate, you can follow them and message them through Twitter. You can also follow other tech companies and connect with their employees.

Leveraging people search engines

– If you want to connect with tech talent from different industries, try using tools like People Search. This site can help you find any candidate easily on LinkedIn, Twitter, Facebook, GitHub, Dribbble, and Behance. People Search can build a complete profile of your prospective candidate, which typically includes an email address, resume, and a link to social networks in which the individual is active.
Increased Diversity
Almost everyone has access to social media and other online platforms, which increases the chance of your job ads being seen by a huge range of candidates. By tapping into the passive market and broadening your search, you can discover professionals who can speak multiple languages, provide new perspectives, and improve your organization's cultural competence and awareness. You can also find a more varied skill set, connecting you with professionals with the skills and experience you did not know could benefit your business. These capabilities include:
Communication

– Tech professionals must be able to clearly communicate their ideas with supervisors and colleagues to help them solve technical issues. Whether it's verbal or written, most IT jobs require good communication skills. For instance, CIO Magazine acknowledges the demand for strong communication skills in the tech world. In an

article

by the magazine, CompTIA's James Stanger stated that communication skills are one of the seven top career trends.

Creativity

– Even though creativity is a soft skill and is not considered a standard requirement for all IT positions, it's actually a useful ability. For example, tech visionaries Mark Zuckerberg and Steve Jobs used their creativity to produce groundbreaking products and revolutionary ideas. Several tech jobs need professionals who can use technology creatively to develop products or processes, or to find innovative solutions to industry-specific problems.

Multitasking

– All companies need an efficient and productive workforce. This is especially true with businesses that work on various tech-related projects and tasks. Such organizations need employees who can make professional plans, keep track of daily schedules, divide and prioritize tasks efficiently, consistently meet deadlines and goals, and work with coworkers to address any project issues.
Cost-Effective Recruiting
Through passive IT recruitment, businesses can save time and money on filling in critical and immediate positions. This is because the talent pools that you have created by tapping into the passive market will allow you to reach the right candidate, resulting in a lower turnover rate. This means you won't have to spend on another round of recruitment again to find better candidates. In fact, a recent report by Gallup's State of the Global Workplace reveals that only 20% of employees worldwide are not happy with their jobs. So, with effective recruitment, you can attract the perfect tech talent for your company and be able to retain them, which helps in strengthening your overall workforce and reducing recruiting expenses.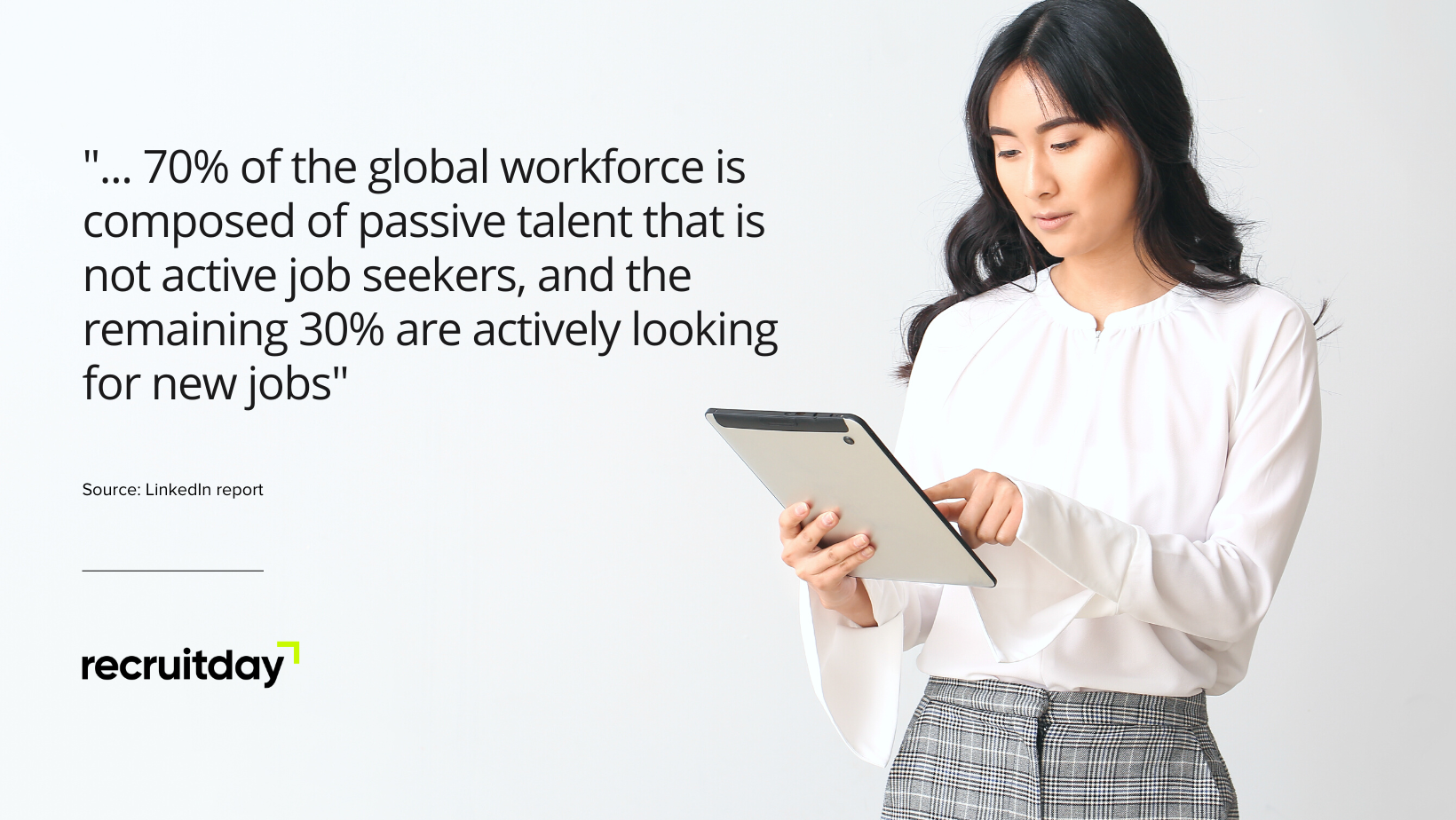 Ways to Access the Best Passive Tech Candidates
Build a Strong Company Image
Potential IT candidates could instantly lose interest or be discouraged entirely if your business has a poor brand image. A survey by Glassdoor for Employers shows that 50% of candidates won't work for a company with a bad reputation, and 92% of professionals say they would leave their current job for a company with a positive reputation. So, to avoid getting ignored by potential candidates, ensure you have already established a solid employer brand before tapping passive candidates. Your career pages and social media platforms must be updated with the latest job opportunities and show a clear impression of your company's vision, culture, and values.
Leverage Social Media Engagement
As long as you know how to effectively use social media, you can establish trust and rapport with your prospective tech candidates. One way to do this is by monitoring who follows your recruitment pages or who comments, shares, or reacts to your posts. According to Glassdoor, 3.5 billion people worldwide use social media and 79% of them are using the platform to search for jobs. With this number of social media account owners, responses and interactions made by people outside your organization could mean that you have possibly tapped the right people.
The effectiveness of using social media in passive recruitment has been proven over the years. One recent survey found that more than 85% of employers recognize the role of social media in helping them access and engage passive job seekers. Moreover, 70% of managers confirmed that they have successfully hired candidates through social media platforms.
If you're looking to incorporate social media into your tech recruitment strategy, check out these platforms that are useful for hiring tech professionals: Facebook, Twitter, Reddit, 100AM, Elpha, Gust, Shapr, Meet up, and Slack.
Reach out to Past Candidates
Gone are the days when most recruiters were trained to find new candidates to fill in their talent pipeline. Over the years, hiring experts have discovered the significant benefits of re-engaging with past candidates and including them in the passive talent pool. Some of these advantages are shortened hiring processes, lower recruitment costs, and a higher chance of filling the job opening faster.
Moreover, by reaching out to candidates who were already interested in your company, you can build a deeper professional network. So, if your past tech applicants were rejected due to a lack of skills or experience, maybe it's time to give them a chance to show their improvement and readiness for the job.
Based on an article on Medium, there are two best ways to effectively re-engage with past candidates:
Give them a call

– Calling your prospective candidates shows more sincerity than sending a templated email or a LinkedIn message. However, if your initial call was rejected, you can reach out to them through email for a follow-up. Regardless of the method you'll use, always start the conversation by acknowledging the candidate's past application in your company and thanking them. Afterward, explain why you contacted them for re-engagement and inform them of the job opportunities waiting for them.

Use a tracking system

– When it comes to re-engaging past applicants, traditional paper filing methods won't be as effective. As a business owner, you should invest in contact-management tools such as an applicant tracking system (ATS). Using this tool can make your end-to-end recruitment operations more profitable, productive, and efficient. With ATS, you'll be able to store all past applicants in your company's database and have access to them with just a few clicks for future placement opportunities. Surveys by Careerarc and Capterra show that over

40%

of companies now use ATS to screen candidates for recruitment and

94%

of recruiters believe that ATS has contributed in the success of their hiring process.
Utilize Your Professional Connections
Leveraging your professional network is key to discovering qualified candidates. A survey by LinkedIn Talent Research found that 56% of professional recruiters utilize their networks to boost talent acquisition outcomes.
One of the best ways to maximize your connections is by implementing an employee referral program. Based on a survey by career builder, business owners say that 88% of their best hires are referrals. Having your employees advertise open positions and getting them to promote your company to their network help establish trust between your organization and the candidate. At Recruitday, we implement a referral program where you can invite your friends to apply to exciting job opportunities and get rewarded for every successful referral.
Foster an Inclusive Workplace Culture
Everyone wants a work environment where they are seen and heard. Companies with toxic work environments and poor employee engagement are less likely to attract and keep passive tech candidates. A report from the MIT Sloan Management Review finds that toxic workplace culture is the biggest reason for high employee attrition rates. It's even more than 10 times more likely to cause employee departures than compensation.
If you want to be at the top of your recruitment game, focus on implementing a solid diversity, equity, and inclusion (DEI) strategy. A recent study revealed that 48% of employed adults would choose a company with an established DEI strategy over their current employer.
Invest in End-to-End Recruitment Solutions
Many business owners consult recruitment service providers when it comes to finding high-quality passive candidates for immediate and critical positions. Recruitment partners can serve as an extension of your company's internal team. This means it's part of their service to gain an in-depth knowledge of your business' culture and goals to build a solid recruitment plan. Moreover, recruitment service providers can design and follow comprehensive methodologies to ensure that the candidates you'll be hiring meet your organizational requirements.
Aside from the mentioned benefits of working with recruitment partners, the success rates of end-to-end recruitment solutions have been proven time throughout the years. A talent acquisition 360 report states that companies that use recruitment process outsourcing are more than twice as likely to rate their talent acquisition as successful than those that do not.
Find Top Tech Talent With Recruitday
At Recruitday, we can help you find the best candidates in a wide range of critical tech positions. We are composed of highly skilled and experienced talent specialists who provide exceptional end-to-end recruitment solutions. Click here to learn more about how we can address your hiring needs.
---
About the Author:
Agatha Buensalida has been working as a digital content writer since 2017. She has written various copies, blogs, and social media posts for a wide range of industries locally and internationally. She is currently pursuing a Master of Fine Arts degree in Creative Writing at De La Salle University - Manila.
FEBRUARY 03, 2023
Looking for tech talents to join your team?
Let our team help you recruit, connect, and hire only the best people for your tech job openings. Send an inquiry now!