EMPLOYERS/HR
BUILDING A TOP TECH TEAM: YOUR QUICK GUIDE TO OVERCOMING IT HIRING CHALLENGES
SEPTEMBER 28, 2022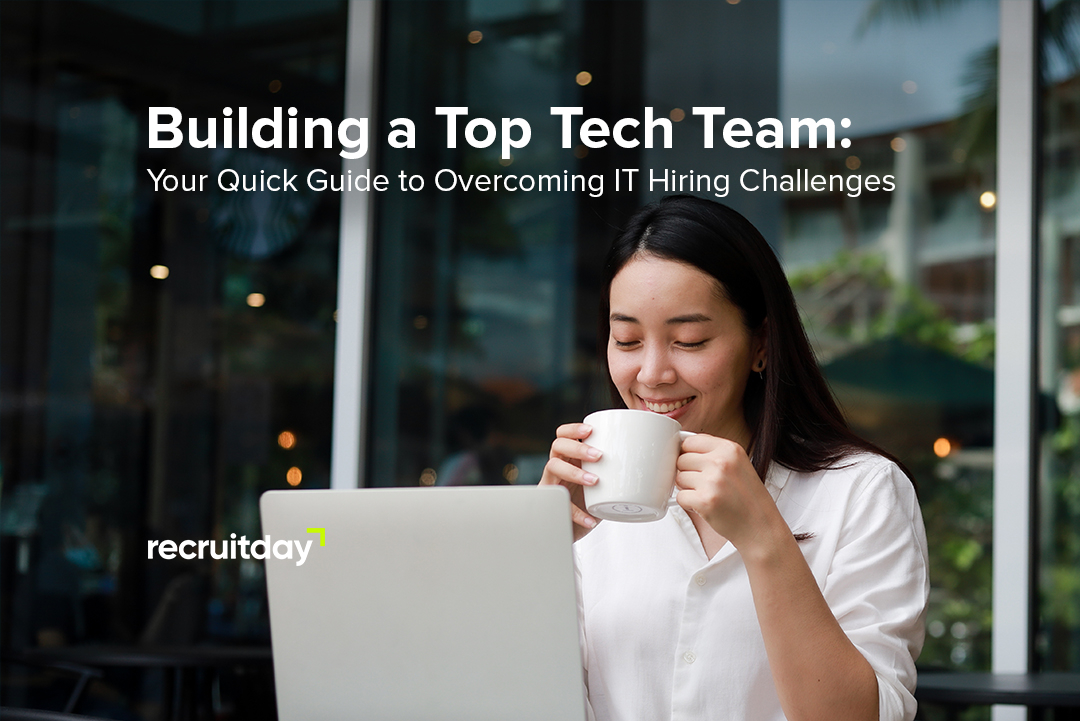 Executive Summary
With the country's digital economy on the rise, companies are on the hunt for IT professionals to help them remain competitive in a market filled with online consumers. However, the road to building a dream tech team proves to be tough. A shortage of qualified IT talents, a skills mismatch, and changing talent needs are some of the hiring challenges companies struggle with. Turning to end-to-end recruitment could be the way out of a tricky search for qualified tech talents. Companies will have higher success onboarding IT talents through an efficient vetting system, an organic talent community, a focus on a niche industry, and a positive candidate experience.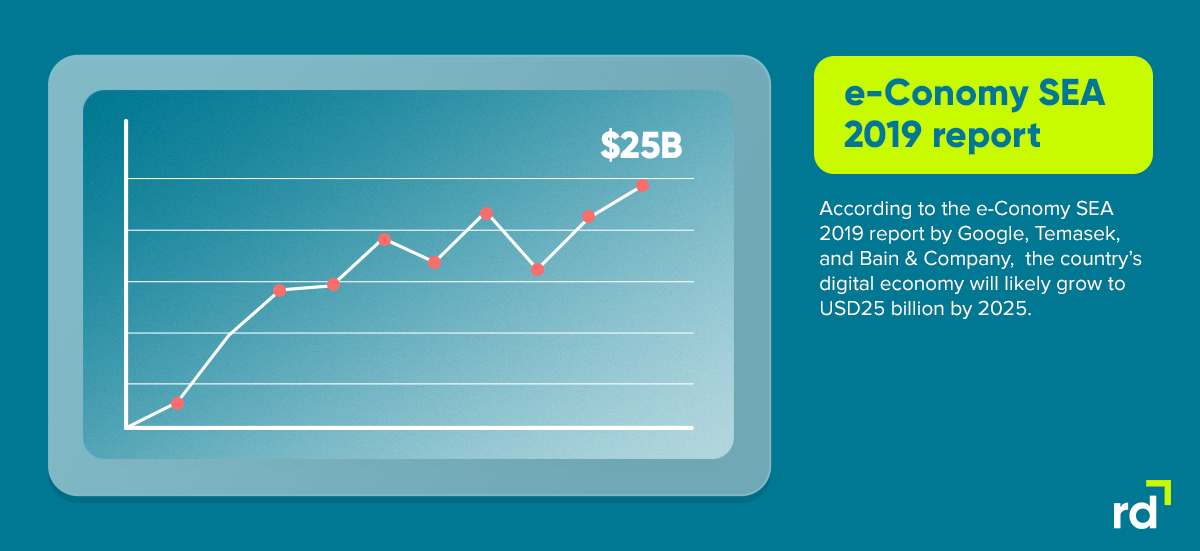 Introduction
The Philippines' digital economy is booming. According to the e-Conomy SEA 2019 report by Google, Temasek, and Bain & Company, the country's digital economy will likely grow to USD25 billion by 2025. Factors contributing to the development include the rapid digitalization of services and workflow automation that companies have begun to embrace partly due to the Covid-19 pandemic. With remote and hybrid work becoming the new normal, employees and consumers rely on online and digital transactions for their daily activities, driving businesses to keep up with the change.
E-commerce, online media, and digital banking are also on the rise. More Filipinos now turn to online shopping, and their online content consumption has also grown. With almost everything being accessed via computers and mobile devices, digital banking is gaining more ground. Global banks are entering the market, while e-payments promote cashless transactions.
The country's evolving digital landscape creates a common need for all types and sizes of businesses: to integrate technology into their practices. To fulfill such demands, companies require people with tech skills. It's both an opportunity to grow and a challenge to overcome. A formidable tech team will help any company compete with others in technological advancement; however, finding the right IT talents is tricky.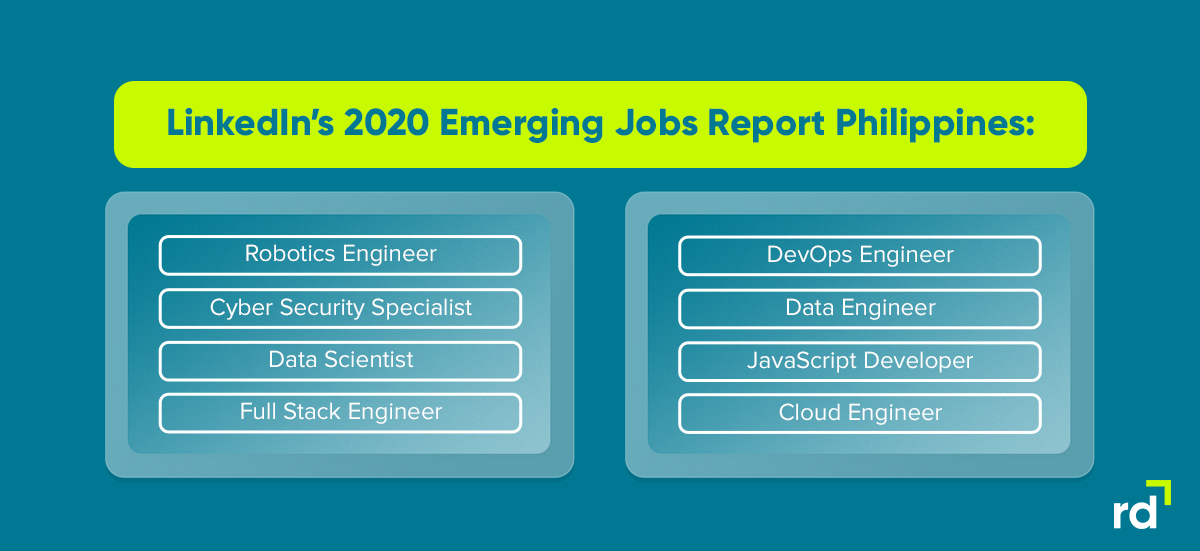 The Gap Between Demand & Supply
LinkedIn's 2020 Emerging Jobs Report Philippines lists the top 10 emerging jobs, the majority of which are in the tech field: Robotics Engineer, Cyber Security Specialist, Data Scientist, Full Stack Engineer, DevOps Engineer, Data Engineer, JavaScript Developer, and Cloud Engineer. The demand is increasing; unfortunately, the supply cannot keep up.
Some IT graduates work overseas, while others do not have the specialized skills needed for specific tech roles. Hiring managers find it challenging to look for qualified tech talents since top candidates constantly get job offers. Another hiring challenge is a skills mismatch. With the growing requirements for niche skills in cloud computing, automation, cybersecurity, and data analytics but not enough qualified professionals, companies are sometimes forced to hire talents lacking the necessary level of skills. Add the changing needs of IT professionals to the hiring woes, and it takes businesses a long time to fill tech positions. The pandemic affected IT professionals' career priorities. They now prefer higher base salaries, better health benefits, and flexible work arrangements – needs that require companies to adjust their offerings.
Hiring challenges have huge costs. The longer it takes for a company to fill a tech position, the more delayed a project gets, which can affect productivity and customer service resulting in revenue loss.
End-to-End Tech Recruitment as the Solution
End-to-end recruitment acts as a salve to the hiring pains that companies experience. With a dedicated team to handle the process from start to finish, businesses can focus on aspects that require their immediate attention.
An effective hiring process consists of factors relevant to the IT needs and demands of a company.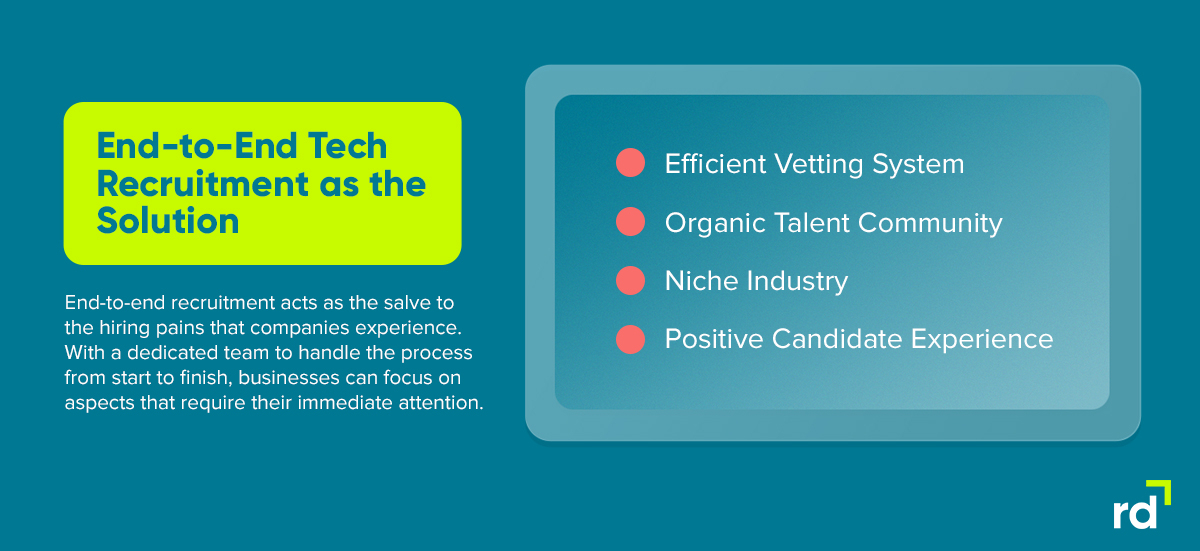 Efficient vetting system – candidates should be pre-vetted to ensure that only the qualified talents with skills that fit a company's specific job requirements make it on the shortlist. The vetting process includes screening, background checks, and initial interviews, making it faster and easier for businesses to find their best talents.
Organic talent community – a critical source of candidates is an organic community of IT talents that supports an end-to-end recruitment process. Community socials and events bring together IT professionals, experts, fresh graduates, and career shifters who look for job opportunities and want to upskill and advance their knowledge. Access to such an organic pool of IT talents is an advantage for companies that can ensure that the candidates they will onboard are engaged in a community where they can learn from and expand their network. The more comprehensive network their talents have, the higher the opportunity for them to find other qualified candidates.
Niche industry – skills gap is a factor in the shortage of IT talents in the country. A hiring practice that zeroes in on the tech workforce addresses this challenge. Tech recruitment requires an understanding of specific subjects, including network systems and the duties and responsibilities of different IT roles. The industry is laden with technical terms while new tools and technology emerge quickly. Paying full attention to a niche industry gives companies a higher chance of onboarding talents with the exact skills and qualifications they need to complete projects and achieve business goals.
Positive candidate experience – according to statistics, 63% of job applicants will likely turn down an offer due to a negative candidate experience. A lengthy, arduous and complicated hiring journey and lack of timely response will turn job seekers off. A bad interview experience will also reflect what it would be like working in that company. To avoid the consequences of poor hiring experience, companies must provide job seekers a pleasant journey wherein they will feel supported and advocated for. Timely response to applications, constant communication throughout the process, and overall guidance will significantly increase the chance of candidates accepting job offers.
End-to-end tech recruitment benefits both the company and the candidate. It provides the business with a hassle-free way to hire by connecting the talents to opportunities and giving them a pleasant hiring experience.
All these are the bases of career platform Recruitday in developing an end-to-end tech recruitment solution to employers struggling in building their tech team. Recruitday's mission is to connect businesses to top IT talents with skills relevant to the demand and direction of the 21st-century landscape to strengthen the country's tech workforce and support the growing digital economy.
Conclusion
Hiring challenges continue to prevent companies from attaining the tech skills and expertise they need to keep up with the growing digital economy. The shortage of IT talents is a hurdle they need to overcome by finding access to qualified active and passive job seekers, tapping an organic talent community, and giving candidates a positive experience to convince them to work for them. However, these are not easy feats due to the time, money, and energy required to make a successful hire. Therefore, getting end-to-end recruitment services is key to building a dream tech team with ease. A team with the proper knowledge, experience, and skills to develop, operate, and maintain specific systems will allow the business to integrate technology into its practices.
References:
LinkedIn 2020 Emerging Jobs Report Philippines
Higher Demand Seen for Tech Professionals
Philippines to See Bright Spots in Tech, Financial Services Job Markets in 2022
62 Recruitment Statistics Every HR Professional Needs to Know
SEPTEMBER 28, 2022
Looking for tech talents to join your team?
Let our team help you recruit, connect, and hire only the best people for your tech job openings. Send an inquiry now!