EMPLOYERS/HR
THE TECH TALENT SHORTAGE IN THE PHILIPPINES
JANUARY 23, 2023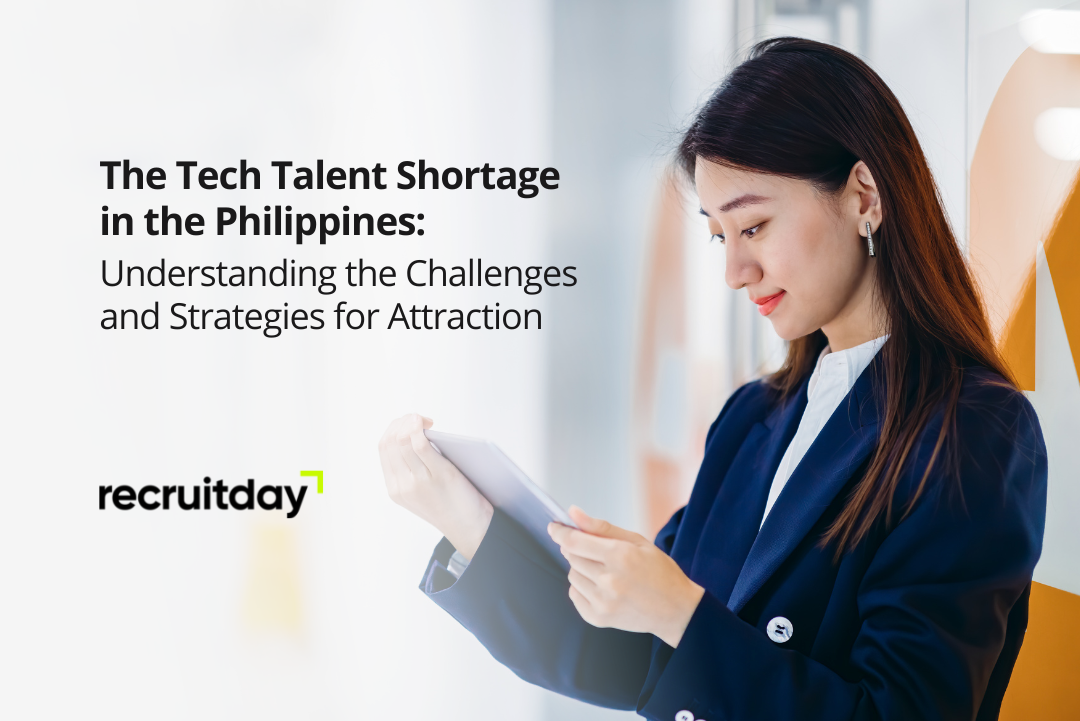 There is a widespread perception that there is a talent shortage in the Philippines, especially in the field of information technology (IT). Many companies struggle to find qualified candidates to fill open positions, and this can lead to longer hiring processes and increased competition for top talent.
Factors that are thought to contribute to the talent shortage include a lack of investment in technical education and training, a lack of opportunities for professional development and advancement, and the high demand for IT professionals in other countries. These contributing factors were discussed in-depth by the CEO of Recruitday, Mr. Joel A. Garcia (JAG) during the virtual event for HR and recruitment professionals hosted by Recruitday. Joel discussed these underlying factors in detail during the event:
JAG: Consulting firm Korn Ferry, forecasted that by 2030 there will be a global shortage of more than 4.3 million labor-skilled workers that includes tech talents, and that need was driven mostly by the top two economic giants, USA and China. This deficit of IT talents was accelerated by the pandemic. In order for businesses to keep afloat and thrive in the new normal, they were forced to go digital. E-commerce, payment gateways, messaging, and collaboration softwares emerged during the pandemic.
Even before the pandemic, we already have a gap between the talent supply versus the demand for tech talents, we're seeing more competitors for local tech talents. Now, local and foreign businesses compete with our country's tech professionals. They start growing their IT capabilities with Filipino tech talent mainly because of our improving infrastructure and relatively cheaper cost of labor.
We have around 1.3 million tech startups all over the world and many are heavily funded tech startups and others are global IT firms. Some of them are starting to set up their development hubs or delivery centers here in the country; imagine the kind of competition the local businesses will have against these global or foreign businesses.
The demand exponentially increases, and the value of supply tends to increase. And if you're hiring, you've already realized it's the job seekers' market.
As the demand for tech talent increases, employers must now work to sell their company and attract top talent, as candidates have more control over where they choose to work. To attract top tech talent, organizations must offer what they want and market their company effectively to stand out from competitors. It's important to remember that like selling a product, your company is the product, and the candidates are the buyers. It's important to not only attract but also find the right candidates to meet the organization's needs.
JAG: There are some things that we can, or you can do as an organization to attract top tech talents.
You have to market or promote why they should choose you versus your competitors. Highlight the opportunities for professional growth and development within your company. Offer training and mentorship programs, as well as a clear career advancement path. Additionally, emphasize any unique company culture or values that align with the values of tech professionals, such as a focus on innovation, collaboration, and social responsibility. Furthermore, showcase any

industry-specific certifications or awards your company has received that demonstrate your expertise and credibility. Lastly, have a strong referral program for current employees, this will showcase the current employees are happy and willing to

work with the company. This will give potential new hires an idea of the type of company culture they can expect.

You need to find them. You have to go where the talents are and where they

usually hang out, like which social media platforms or communities or groups,

and what forums are they actively engaging in. And you must think like an IT

professional, let's say you're stuck with the code, and you have no one on your

team, what do you search in Google? Whom do you message? Do you go to a

certain page? Do you watch YouTube to learn how to do this specific function,

etc.

Build a talent pool. There's a long-term approach, which a lot of organizations

are starting to do, they build their own talents. They build talents by running

their own boot camps. They hire fresh grads or career shifters, basically, entry-level

employees and they train them, and upskill them to certain technology,

which later on, these employees will be part of their IT team.
In general, we are also starting to see an influx of independent training providers who offer boot camps or IT training that can be finished in a short period. Some of them even offer attractive promotions like, pay now. study later scheme. These initiatives would hopefully help boost or increase the supply of our Filipino talents over the next two to three years.
Ultimately, the key to success in attracting top IT talent is to be strategic and flexible. Companies must be willing to adapt their methods and strategies as the market evolves and new trends emerge.
Companies need to carefully evaluate their resources, goals, and current market conditions to identify which methods will be most effective for them. Some companies might find that investing in employee development and creating a culture of learning is the best approach, while others might prioritize building a diverse workforce and using social media to connect with potential candidates. It's also important to consider the cost of each strategy and the potential return on investment.
Toward the end of his presentation, Joel Garcia gave a brief yet urgent reminder of the importance of developing IT talent in the Philippines:
JAG: There is still a huge opportunity there because at the moment we have around 2.7 million Filipino people who are unemployed. That's around a 5.3% unemployment rate, and we have around 1.6 million graduates every year. So, if we don't act now by 2030, we will run out of supply for tech talents. Maybe by that time, our IT team would be composed of people from different countries like India, Ukraine, and Romania, who have been steadily upskilling their own people in the talent industry.
Choosing the correct methods or strategies to attract top IT talent in a highly competitive job market can be a daunting task for any company.
To simplify the process and make it more efficient, companies can utilize end-to-end recruitment services. These services can help companies easily build a dream tech team, comprising people with the right knowledge, experience, and skills to develop, operate and maintain specific systems, allowing a business to integrate technology into its practices. In today's technology-driven market, the ability to hire top tech talent quickly and affordably is crucial, as the performance of your IT team can make or break your business. Investing in a comprehensive hiring strategy is a worthwhile endeavor.
JANUARY 23, 2023
Looking for tech talents to join your team?
Let our team help you recruit, connect, and hire only the best people for your tech job openings. Send an inquiry now!