FINDING A JOB
REFER AND EARN: HELPING A NETWORK IN THEIR TECH CAREER SUCCESS
JULY 01, 2022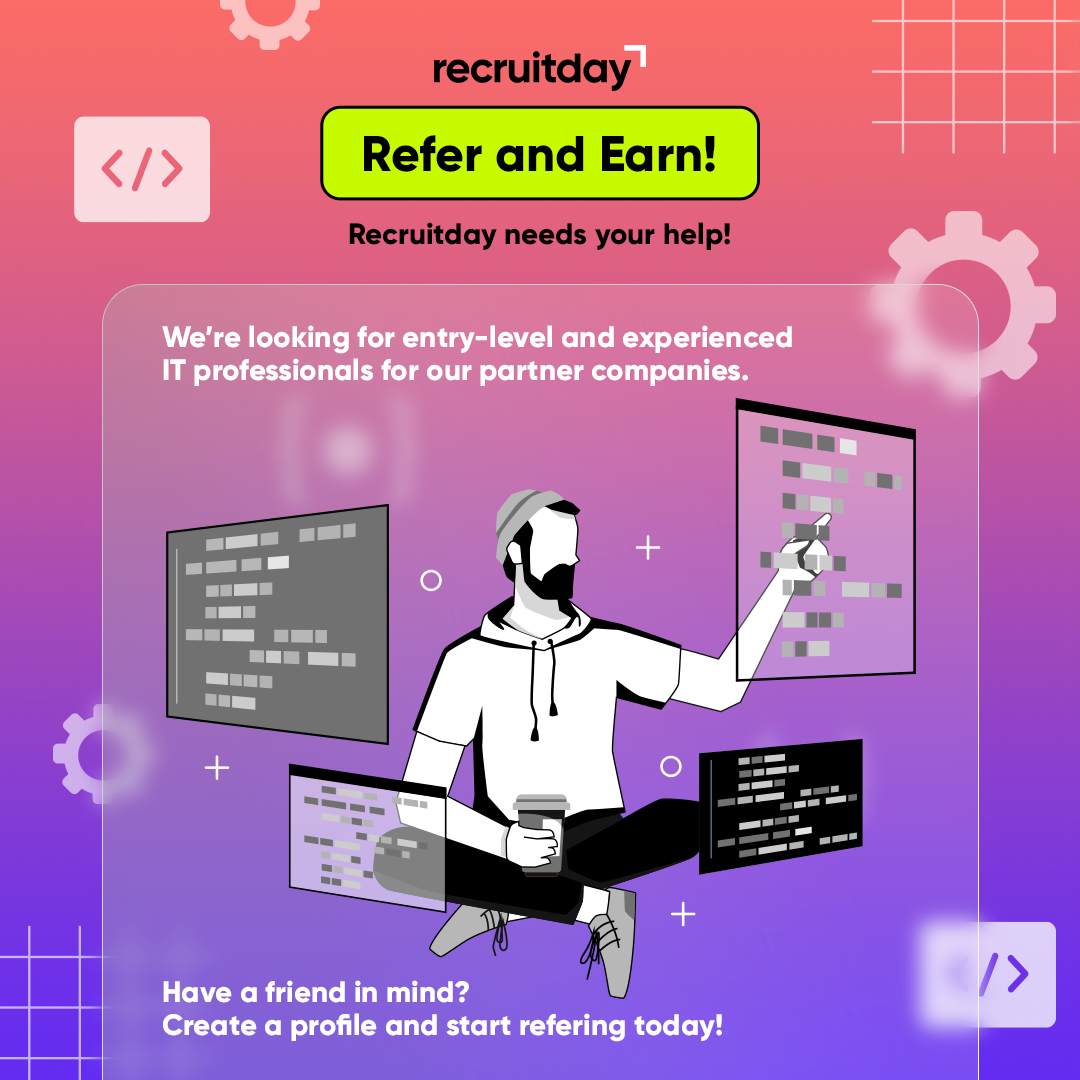 Part of belonging in a tech community is helping each other find opportunities and succeed. You can aid your friend in their career journey through referral programs that companies offer to grow their talents. Referrals are vital to building a solid tech team, but referrers also benefit significantly from it.
Why should you refer your friends to available tech jobs?
You become instrumental in other people's success –

it's human nature to want to contribute to others' success, most especially if they are people special to us. Seeing a friend blossom in their chosen tech career because of the door you opened for them gives a great sense of fulfillment and joy.




You contribute to the tech industry –

being a bridge between companies and talents allows you to participate in building a robust local tech industry. When you see potential in others and pave the way for the industry to harness it, you then assist in creating a tech talent space conducive to growth and development.




You do a good deed that comes back tenfold –

every referral you make is like putting a coin in your bank of good deeds. The more you deposit, the higher your savings. The people you helped achieve their dream tech career will remember you and do the same for you.
You get to earn extra money –

effective referral programs offer rewards for referrers. Aside from helping a friend, you will get paid for doing so – an instant blessing for your good deed.




Now that you understand the benefits of referrals to your career journey, you're wondering where and how you can point your friends toward tech job opportunities. Recruitday has a fantastic referral program; joining is as easy as one-two-three. You don't have to be a part of Recruitday or any of the companies offering referral rewards to join.
Refer and Earn How-Tos
Recruitday calls on everyone, including employees and non-employees, to refer and earn to help grow their tech talent pool. Every referral has a reward depending on the tech role.
Here's how to join the program.
Sign in to your account to access the platform where you can keep track of all your referrals and rewards.



Go to the Jobs Page and look for postings with referral rewards details at the bottom. You may filter the search by clicking the "with Referral Rewards only" button.





Choose a tech job role and click the "Refer and Earn" button to get your unique referral link, which is connected only to your profile. Note that all referrals using this link are directly connected to your account.





Once you get the link, you can "Share a Referral Link" to anyone you know who is qualified for the tech job.





You will get a notification when your referral reaches a milestone. You will receive your payout via bank transfer or GCash. Keep in mind that you will be notified, and we will get your details only if you have pending rewards.
That's it! You can refer as many as you want without the need to be affiliated with Recruitday or any company offering referral rewards. However, you can't apply for your referred tech jobs. You may begin your referral journey at any time and start helping your friends achieve their tech career goals. You won't spend a single centavo for this; instead, you will gain better relationships with your network and the tech community while pocketing extra earnings.
Happy referral!
For any questions about the program, e-mail us at marketing@recruitday.com!
Ready to join a tech workforce of driven and motivated professionals? Check the available tech jobs in your chosen track, register in training courses to upskill, or refer your friends and earn today.
JULY 01, 2022