NEWS & UPDATES
RECRUITDAY USES MICROSOFT TOOLS TO REVAMP REFERRALS FOREVER
JUNE 02, 2021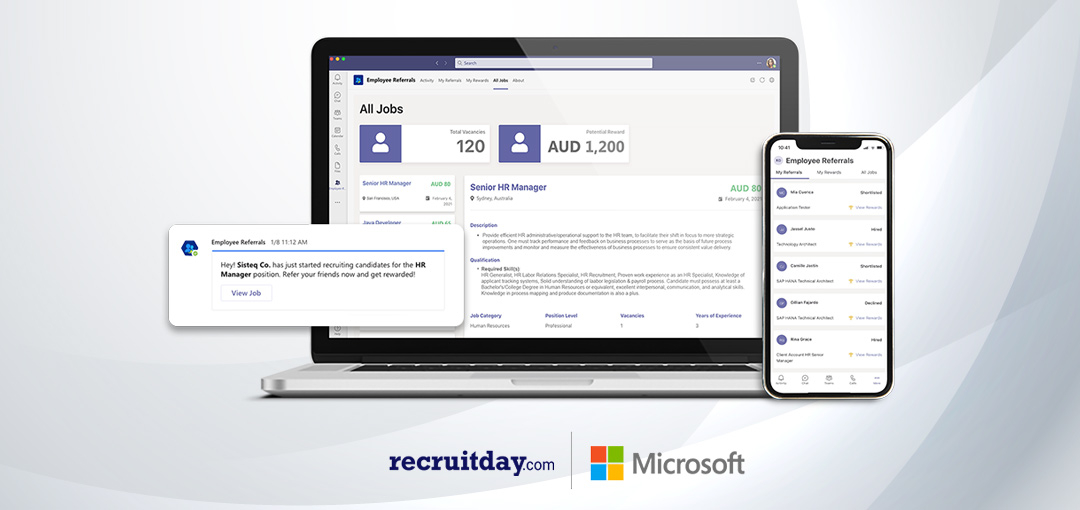 ---
Key Points:
Referrals have always been a top strategy for recruiting new employees because of their numerous benefits
An important factor of creating a successful referral program is the experience of the employee and HR team or recruiter
Using Microsoft technologies, Recruiday has made it easier than ever for employees to make referrals, and recruiters to manage the program
With a good system in place, a BPO company has increased employee participation to 70%, with an average of 6 referrals per employee
---
Referrals have long been regarded as one of the best ways to hire new employees—even amidst a pandemic. Referred candidates have been shown to stay longer at their jobs, help companies reduce hiring costs, report greater work satisfaction, and onboard faster among many other benefits. While these benefits make referrals an attractive practice at any time, they become that much more important as the working world digitalizes and disruption quickly becomes the norm.
For HR solutions firms like Recruitday, a big part of helping clients revamp their HR practices means helping them improve experience and enhance the way they use referrals.


How Microsoft technologies are changing the game

Using Microsoft technologies, Recruitday has developed tools that make it easier than ever for employees to make referrals for their organization and even track them.
The first tool is an initiative meant to bring the referral program to employees via Microsoft Teams. This encourages employees to refer anyone they know for job openings at their organization, allowing the organization to tap into a vast pool of potential talent they might not find anywhere else.

The next tool is made for recruiters or the recruitment team of an organization. It is a fully customizable recruitment app built on Microsoft Power Apps that can manage jobs, referrals, and rewards. With the recruitment app, recruiters can easily track the progress of referrals, rewards, and collaborate with the entire team to efficiently track their activities.
The recruitment app is also integrated with Power BI, which helps them analyze data and measure the success of the referral program through interactive dashboards and reports. This tracks whether metrics such as employee engagement have gone up during the referral programs, which allows organizations to recalibrate hiring strategies accordingly.
With Recruitday's leverage of Microsoft Teams and the Power Platform, referrals are turned into a fast, easy process for both employee and recruiter that needs only minimal oversight.

Referrals Make Their Mark
According to Recruitday CEO Joel Garcia, the recently launched tools were made to make it easier for employees to help out their employers with referrals. "Though referral programs can bridge the gap between employees and new opportunities, only 15% participate in them," Garcia said. "Most of the time, it's because of a lack of awareness or complex processes turning them off of the concept."
In the few companies already using Recruitday's creations, the benefits were felt almost immediately. In the case of IT and BPO services provider Hammerjack, the company has felt an uptick in engagement and has had an easier time recruiting talent.
"We chose Recruitday's Referral Recruitment Platform to streamline our referral process in the best way possible," said Theodore Villamor, Hammerjack Country Manager.
In the case of another BPO company made up of 2,000 employees, 70% of the company's workforce now participates in the company referral program, with an average of 6 referrals per employee. The applicant-to-hire ratio was also improved, shifting to 1:10.
The use cases of places like Hammerjack show that referrals and referral-related tools are an investment with great ROI.


The future of recruiting
Though Recruitday and its Microsoft-backed tools are new, it is hoped that they are just the first in a long line of improvements to the way people recruit. After all, recruitment is arguably harder now than ever: a market saturated with jobseekers can make it tough to pick out qualified candidates, safety concerns plague a return to the office, and the changing nature of work make recruitment a markedly different task from what it used to be.

The good news is that in the future, companies such as Recruitday expect to release even more solutions, all focused on giving businesses accessible and efficient methods to put together the talent they need. With a company's team being its greatest asset, the work Recruitday has done for referrals and beyond will surely prove even more important in the long run.

---
Learn more about Recruitday's recruitment solutions
Find out how Recruitday can help you build your dream team. Click here to learn more about the different recruitment solutions available.
SEND US A MESSAGE | POST A JOB FOR FREE | LEARN MORE ABOUT OUR SOLUTIONS
JUNE 02, 2021