HOW TO ENCOURAGE A GROWTH MINDSET DURING A CRISIS
SEPTEMBER 10, 2020
---
KEY POINTS:
The world is not a stranger to crisis, we have faced many before and managed to bounce back and even grow from them
As a leader, you need to start with adjusting your own mindset before you can reinforce that mindset within your team
You must adjust your expectations and be patient with all the changes happening
Let go of the "if it ain't broke, don't fix it mantra" and allow for better creativity, forward-thinking, and a proactive approach to work and business operations.
---
Most of us have never faced a crisis as bad as this COVID-19 pandemic in our lifetime. But this isn't the first major crisis in history. There were the major flu pandemics in 1918 and 1968 (among many others) and the more recent SARS and MERS outbreaks in 2003 and 2012.
Apart from global health issues, we've also seen non-health-related crises such as the Global Financial Crisis of 2007-2008 or back further in 1929 during the Wall Street Crash and the Great Depression.
The world is not a stranger to a crisis. We've faced a lot over the years. But what has continued to happen is a 'bounce back' - a sort of reset, recuperation, and even growth after what at that time would have felt like the worst crisis ever.
As we are facing new challenges, new uncertainties, and trying to recover, we will see that our abilities can be developed and adjusted to allow continuity and even growth during difficult times. After all, humans were built to adapt and evolve, right?
So as a manager, employer, business owner, or leader, how do we cultivate a growth mindset through remote work within our businesses and organizations during the current crisis we are facing and future ones we might encounter?
As a leader, you much change your own mindset first
First of all, as the leader of your organization, you must change your own mindset first. Knowing how to adapt and setting growth as a goal must start with you. Think of a crisis as an opportunity for growth. Just consider what has happened.
Before this year, remote work seemed impossible, impractical, and maybe even an excuse for employees not to work as hard. But when push came to shove and our only choices were to embrace remote work or close down, we realized that it, in fact, can be done.
Each time you're faced with a roadblock, just remember that the landscape of work was very different only a few months ago. If you were able to adapt to remote work (whether willingly or begrudgingly) you can adapt to other challenges AND even aim for growth.
Reinforce that mindset it in others
A case study from Harvard Business Review talks about how during Satya Nadella's first few months working as the CEO of Microsoft, he spent his time teaching people the value of a "learn it all" culture rather than a "know it all" culture. He shared videos regularly where he talked about things he learned during that month. Then he encouraged groups across the organization to do the same and share their learnings with their respective teams or departments.
This is a good exercise because it reminds your team that there is ALWAYS something new to learn, which in turn reminds them that there is still room for growth. You know how the saying goes - the moment you think you know everything is the moment you stop learning anything.
This is something you can incorporate during your regular meetings. Ask your executives or team leaders simple questions like "what have you done since we last talked" and "what have you learned". This will develop their self-awareness, let them recognize things they've accomplished, and help them see that they are actually learning something. Those can be extremely motivating feelings that encourage further growth and development on a personal level.

Adjust your expectations
Shifting to remote work is the perfect time to reset established practices and renew your expectations. If you are a company that has not implemented this type of work setting before, you need to adjust what you expect from your team members.
Remember that not everyone may have a constant, stable internet connection or a proper work area. Some people may have kids they need to take care of or even do home-school sessions with. Unlike in the office, everyone now has a different and unique work setting. It's a good idea to find out how your team is working if there is anything they need to make the transition easier or any other factors you need to consider.
Allowing room for adjustments or changing your procedures will break you from old systems that may not have necessarily worked before. This is the perfect time to re-evaluate how things operate within your organization to see what you can change, what needs improvement, or what you can remove completely. Expect that there will be many changes during this time. So adjust your expectations but be patient - change happens slowly. Which leads us to our next point.
Patience is a virtue
Patience is necessary, now more so than ever because we are still learning. It may feel like we've been stuck in this situation forever but it has only been a few months. By now, your team probably already knows how to schedule an online meeting, share a screen, or effectively conduct video meetings but we still need time to completely reshape the work practices we've been used to.
For now, focus on the effort being given and the insights both you and your team are gathering rather than direct outcomes and immediate results because those can be extremely unpredictable right now.
Be patient with yourself and your people. Recognize their work and their efforts, even if they don't live up to your expectations just yet. We're all adjusting, so be patient.
Relax a little during video calls
Because most of us have been working remotely, we've started seeing our teammates in a whole new light. We get a peek of their homes, workspace, maybe even their kids, partners, or pets. During the start of this setup, we were all most likely still concerned with how we presented ourselves with the video on - showered and well-dressed. And if your kid or your pet came into frame, we would switch off immediately and apologize for the "intrusion".
But over time, most of us have realized that it's really no big deal. In fact, relaxing a little during video calls and being less worried about social evaluation or being judged and embarrassed stimulates creativity and experimentation, which are key factors in growth and development.
So don't worry so much if your team members haven't showered or dressed up before a video call, or if their kid suddenly pops up on the screen. Let them know that it is okay to be comfortable so they can focus more on what's being discussed and finding ways that everyone can continue to survive and even thrive during this crisis.
Let go of "if it ain't broke, don't fix it"
We can argue that a big part of the reason why a lot of organizations struggled to pivot and adapt during the start of this pandemic was because of the "if it ain't broke, don't fix it" mentality. We've had all the tools and technology necessary for remote work LONG before the pandemic even appeared, yet we didn't bother even considering it as part of "regular work" because there were no real issues with "regular" or "office" work.
Then when the pandemic happened, it was a scramble for survival. But for those who had embraced new technologies, the latest tools, and a modern way of working gradually over time, had an easier transition into full-time remote work.
Escaping the "if it ain't broke" mantra gives your team an opportunity to share their ideas on how we can do things better. Let your team give their insights or ideas on new ways to work, new processes, new practices - who knows, even if it may seem "out of this world" and "not really necessary" right now, by the time the next great crisis comes along, you'll be glad you took a proactive approach rather than a reactive one.
Growth may not be on the top of your list of priorities during this crisis since most of us are still on survival mode. But a lot of companies continue to grow and thrive during this pandemic and it's possible that you can too even if the start was a struggle. As the saying goes, adapt or perish. You can adapt through having a growth mindset and encouraging it within your team.
Need help rebuilding your organization?
With everything that's happening, you should get all the help you can get. If that means trying different strategies for your recruitment, it will be worth it. We may be roughing a big storm right now, but if you prepare and get a good team set up for when the storm dies down, you'll be able to rebuild quicker.
Thinking of new ways to recruit? Visit our Employer Page to see how we can help you or send us an email at inquiries@recruitday.com.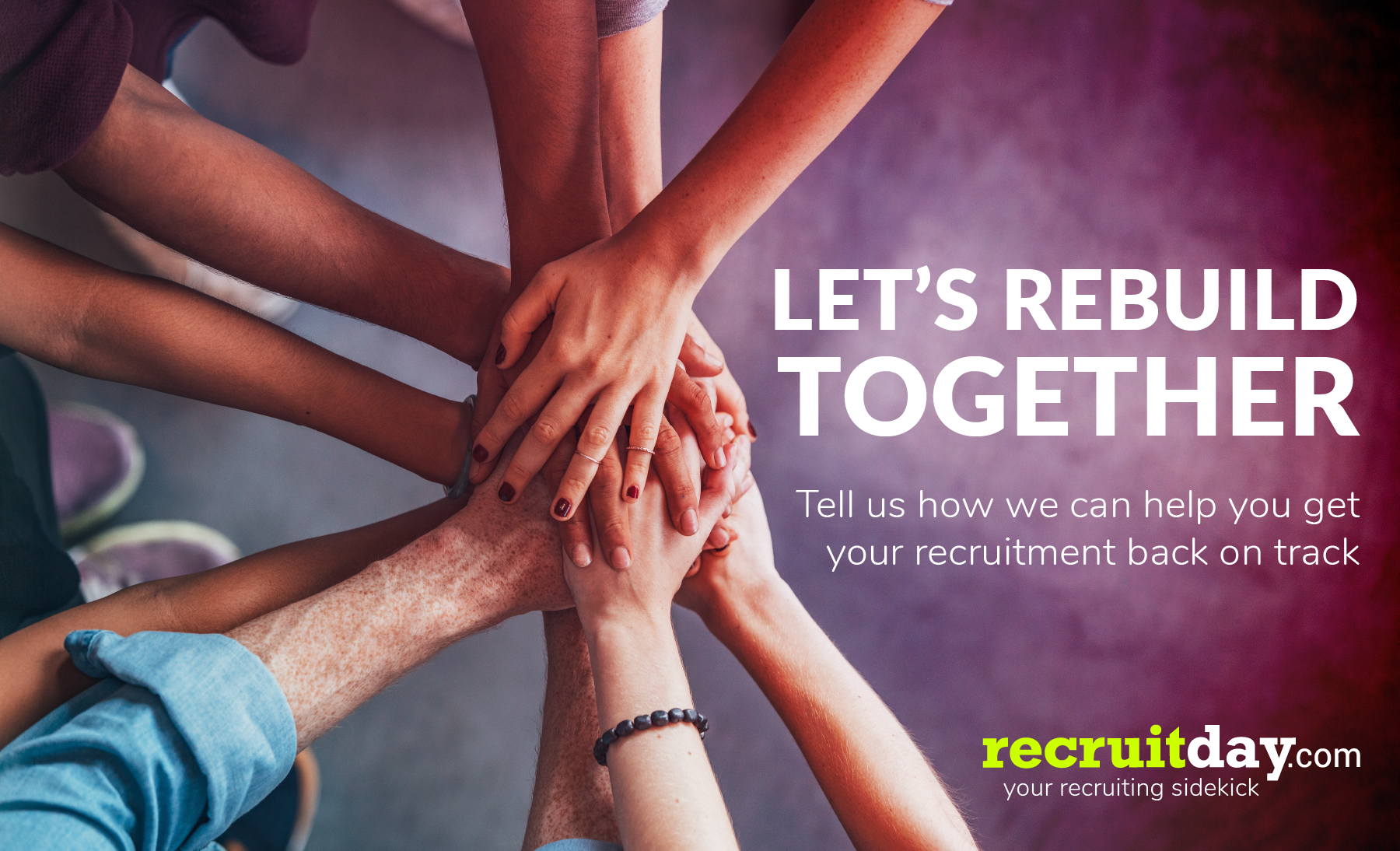 SEPTEMBER 10, 2020