5 TIPS TO HELP A FRIEND FIND A JOB
MARCH 13, 2019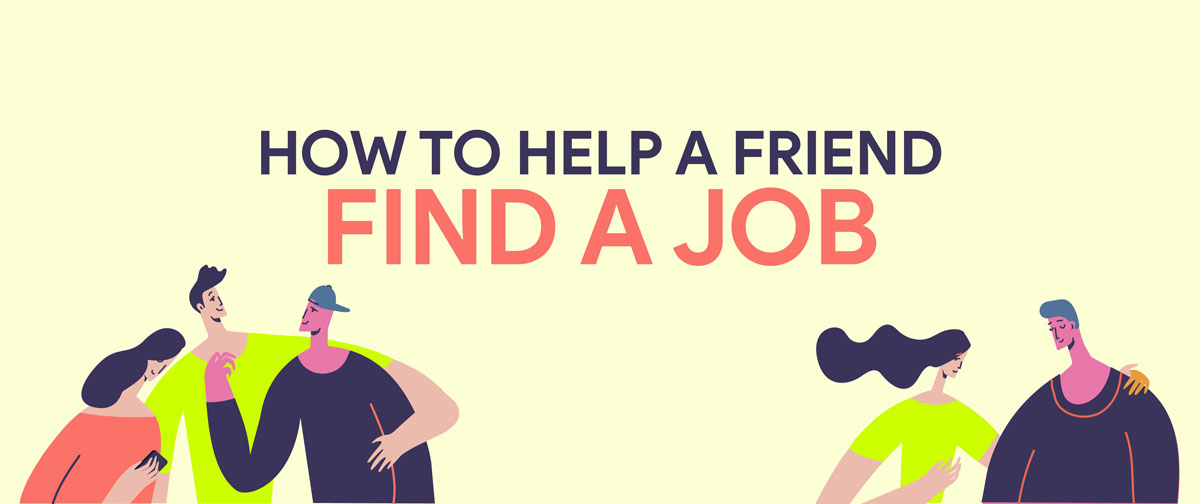 Do you have a friend or family member who is looking for a job? The job hunting experience can be difficult, which is why we should give all the help we can to friends who need it. But where do you start? What can you do to help?
Here are five small things you can do to help your friend through the job hunting process - because let's face it, finding a job nowadays is pretty tough. These ideas won't take too much of your time but they might be able to help your friend or family member get back on track in terms of their career.
Be positive and constructive
First and foremost, you need to be there to offer your support and enthusiasm. Whether your friend got fired or is looking for a new career, don't criticize them because they are most likely having a hard enough time as it is. Give constructive feedback rather than pointing out all the things you think they did wrong that got them fired or all the mistakes that are on their resume.
Refer jobs to them (and earn at the same time)
Something extremely helpful that you can do for your friend is to
refer them to jobs
. There might be openings in your company or you might know other companies that are hiring - share those openings with your friend. You can also check job listing sites, company pages on social media, or professional groups on Facebook and LinkedIn that post the latest job openings.
Referring jobs to your friend is also a way for you to
earn cash
. There are programs available that actually allow you to get rewards for every successful referral you make - such as the Recruitday Scouts. It's a win-win situation because your friend gets a job, and you earn cash.
Help them with their resumes or social profiles
Companies still highly rely on resumes and professional profiles to screen their candidates, which is why it's important that your friend's resume is in tip-top shape. It's hard to catch your own mistakes, even if you go over them a hundred times.
Offer to scan and proofread their resume and cover letters. You can even help them spruce up their online jobseeker profiles and portfolios. Suggest whatever improvements that come to mind, but remember to be constructive and not critical.
Go to job fairs/networking events with them
Networking can connect you to people looking for talent to join their organizations. Going to professional networking events or job fairs can be a lot easier and more motivating when you have someone with you cheering you on. If you have some time to spare, accompany your friend to these events. Who knows, you might meet new people too who can help you out in your career or offer you new and exciting opportunities.
Write a recommendation on LinkedIn or become a reference
LinkedIn is used by a lot of companies as a professional reference. Something quick you can do for your friend is to write a recommendation on their profile - but you can only really do this if you've worked with them previously. If not, offer a personal recommendation instead. You can also let your friend use you as a reference on their resume. Just be prepared to possibly receive a call or email from their prospective employer asking about why they should hire your friend.
After you've done these things for your friend, remember to stay in touch and follow up. Ask them how they are progressing and lend an ear. Let them vent because sometimes that's what they need to help them get through. Stay positive and continue to encourage them throughout the process. In the end, they will remember all the help you gave them and maybe, they'll treat you out to lunch.
MARCH 13, 2019