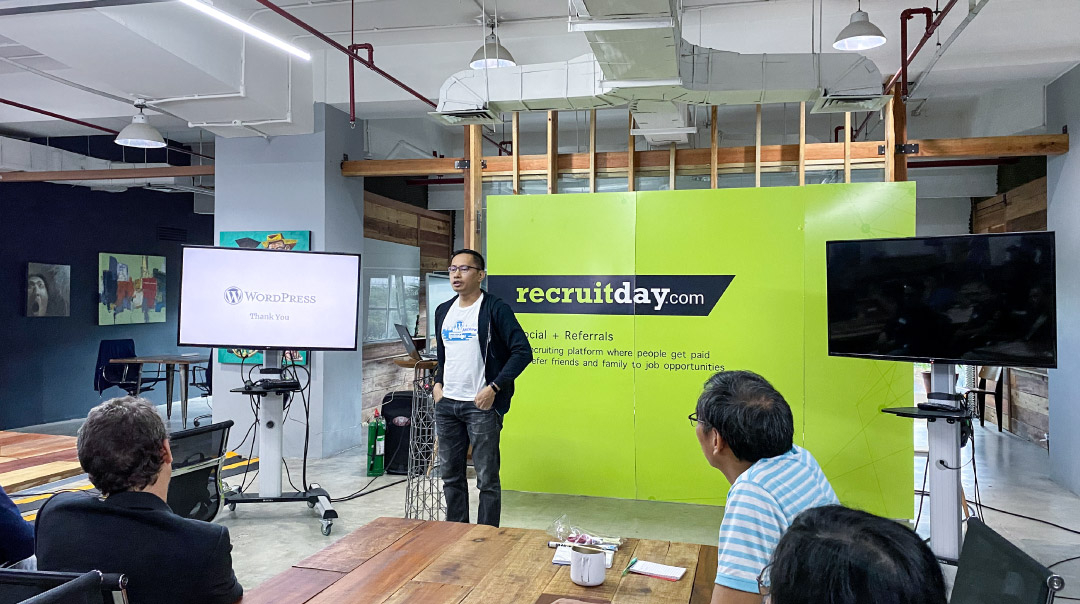 IT Recruitday on Wordpress User Group
January 11, 2019 - Our first community meetup for the year with WordPress User Group Philippines. The group is lead by Andrew Garcia, a seasoned web developer who started with making microsites for an advertising company that was pioneering digital marketing at that time. When he transitioned to working fulltime as a project consultant, Andrew was exclusively using WordPress for web development.
WordPress is a popular blogging platform, but over the years the tools and applications have evolved to include corporate and product sites, and now includes an eCommerce platform. In the Philippines, there is a high demand for Wordpress practitioners. "Because of the platform's varied application and low barrier to entry, the number of WordPress sites continues to grow every year. This translates to more opportunities for skilled WordPress professionals in many different roles," according to Andrew. A little known fact is that WordPress powers around 35% of the internet.
"Among the many, many advantages of WordPress, I'd say the most obvious advantage is the ease of use it provides for non-techie users," he said.
I also wanted to know how easy it is for someone with little to no experience in WordPress to start a career in the field. "Probably a couple of hours (a day) to get a handle on the basics. That depends on the user's technical background."
"Professional WordPress designers should have a strong grasp on Web Design fundamentals. That includes the web's 'big 3' HTML, CSS and JavaScript. From there, you should have adequate experience with the basic WP admin interface and essential functions and features. In addition to the skills above, WordPress developers need to have a strong background in PHP programming."
So where can someone go online to learn using the tool? "The internet has no shortage of free and paid online learning resources. I'd say if you're a beginner, go check out WP Beginner. To keep updated with the latest WP related industry news, WP Tavern is the place to go. If you're a developer who's looking to dive deep into the WP code, you can't go wrong with WordPress Codex."
In Andrew's words, WordPress User Group Philippines is a grassroots community of WordPress developers, designers, and publishers who get together to share knowledge and experience, as well as to meet with other WordPress lovers in the Philippines. They hold their meet ups once a month at no charge, with active chapters in Manila, Cebu, Davao, and Iloilo. You can connect with them at wpmanila.org and on their Facebook page.
About IT Recruitday
We spent most of our weekends 2019 in hosting tech communities in the Philippines and the turnout was better than we expected. It started with us reaching out to communities who were conducting regular meetups and offered our space for free. Since then, IT Recruitday has been the go-to venue of tech communities for holding their meetups, conferences, study groups, and hackathon. We help tech communities overcome common pain-points and free up some time and resources in growing their community.
If you lead or are part of a tech community, you can reach us at luis.baring@recruitday.com for partnership and hosting opportunities.

Luis Baring
Community Engagement Manager at Recruitday. In pursuit of the ideal workplace.