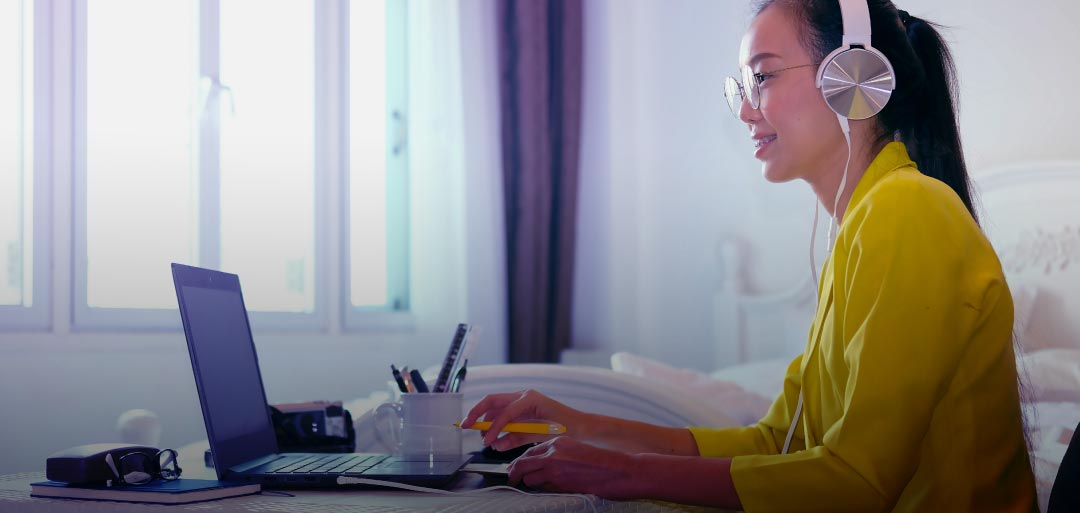 How To Succeed in a Virtual Interview
---
KEY POINTS:
Virtual interviews are used now more than ever because of the COVID-19 pandemic

Know what program you will be using and learn how to use it beforehand

Set up your environment – make sure there's enough light, your background is clean (and plain), and there are no other distractions

Have a friend or family member practice with you and give you advice

Get into the mindset that you are really meeting your interviewer
---
Before the COVID-19 outbreak happened, virtual interviews began gaining popularity. But now that we're all forced to stay home and avoid contact with other people, virtual interviews are on the rise more than ever – well, because we have no other choice.
When you think about it, virtual interviews are more practical, even without the looming threat of a pandemic. You save time, money, and the effort of having to physically go to your interviews. You can also schedule more than one interview per day because you take away all the time spent commuting, which let's face it, in Manila, is the BIGGEST challenge you face.
The thing is, virtual interviews require that you get familiar (and comfortable) with doing it. So, to help you master your virtual interview and land your dream job, here are some tips and tricks.
Figure out what those buttons do
Whether you are using Skype, Zoom, Microsoft Teams, Facebook Video, or another program, you need to learn how to use it. Ask your interviewer beforehand what you'll be using and then figure out how it works. Don't forget to create an account if you don't have one. You will probably need it for other interviews.
Additionally, check your internet connection and make sure that your camera and microphone works. Call a friend or family member to test it out beforehand. Then on the day of your interview, test it one last time to ensure everything is working smoothly.

Set the scene

and limit distractions
Figure out where you will do your interview. It's best to do it in a separate room without any kids running around, nosey siblings, or pets climbing on your lap. Make sure you have adequate lighting. If your room is dark, add a lamp or position yourself near a window. Try to find a place with a plain background if possible so you become the focal point of the interview.
No matter where you decide to set up, tidy up the area that your camera captures. It will be hard to convince your interviewer that you're organized and detail-oriented when your pile of laundry and stack of dirty dishes are laying in the corner. Again, have a friend or family member to video call you to check if everything looks neat and in its place.
Have all your notes ready and on hand
Just because you're on your computer, doesn't mean you can (or should) search the web for answers. It can be pretty easy to tell when you're doing other things on your computer. Prepare ahead of time so you can properly focus.
Research about the company and have your resume ready. You can split your screen so you see the interviewer and your notes in one view, or have your printed notes beside you. Just make sure that everything is close and within reach so you don't have to fumble around.
Practice common

interview

questions
Even if the call will be done virtually, you can still expect to hear the basic interview questions. Think of your answers for questions like why are you interested in this role, what are your strengths and weaknesses, what is your biggest achievement or failure, why are you looking for a new job, etc.
If you want a list of common interview questions, you can read our article on the 42 most common interview questions. We also have other articles on how to answer big questions like what is your greatest strength, and what is your biggest weakness.
READ MORE: 42 Common interview questions
Shower and dress the part
Just because you aren't seeing your interviewer in person, doesn't mean you shouldn't run a comb through your hair! Take a shower, brush your teeth, and wear what you would normally wear in any regular interview. This means a button-up shirt and blazer for a man, and a nice blouse, dress, or even dress-suit for a girl. Just look presentable. This can also help you get into the mindset that you are meeting your interviewer.
Wearing professional clothes even if the interview is virtual will give the impression that you are serious about the roll and that you are well prepared.
Be conscious of yourself
It's important to be true and authentic on any type of interview, but more so when it's behind a screen. Being able to shake hands with your interviewer or maintain good eye contact are how connections are built during a traditional interview. Obviously, you don't have that advantage now, so you need to be aware of how your portray yourself.
Sit up straight and try not to fidget. Show your enthusiasm where possible and let your body language show when you are thinking of an answer. Just don't exaggerate. The best thing to do is practice with someone. Have them ask some common questions to see how you "translate" on screen. Record it and watch it back to see if you're too stiff, too informal, or if you're doing just fine.
Follow up right away
Within 24 hours of your interview, send an email (or text if that's how they initially contacted you) to your interviewer thanking them for taking the time to speak with you. This will show them that you value their time and will help them remember you. It can also give you an extra opportunity to resell yourself, highlight your strengths, or mention any points you missed. But don't make it too long! Just keep it short and sweet.