WHAT COVID-19 MEANS FOR FRESH GRADS AND GEN Z
JUNE 20, 2020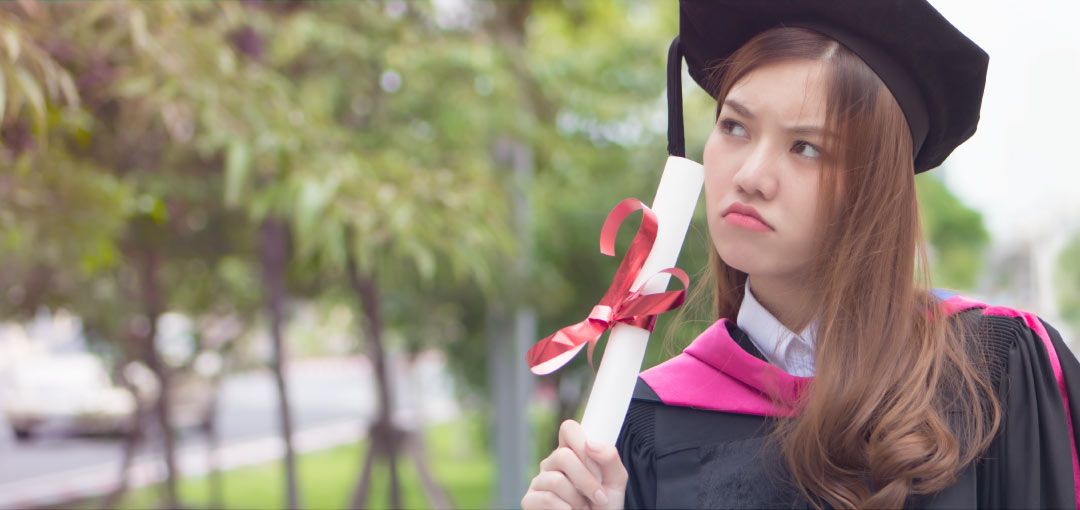 COVID-19 has left fresh graduates and Gen Z uncertain about the future of their careers. How will they push through amidst uncertain times?
---
KEY POINTS
COVID-19 has left fresh graduates and Gen Z

uncertain about the future of their careers

Numerous opportunities have been lost as unemployment rate skyrockets to 17.7% in the 2

nd

quarter of 2020

Fresh graduates and Gen Z need to find other ways to find and continue work or develop their skills in the meantime, until the economy can recover or

stabilize
---
COVID-19 has left everyone feeling uncertain about the future, especially when it comes to our work and career. Fresh graduates and the oldest of the Gen Z are feeling this uncertainty weigh heavily on them, perhaps more than the rest of us. Already having to sacrifice the loss of graduation ceremonies, Gen Z's are facing the struggles and challenges of starting their careers during an economic recession.
Fearing the loss of opportunities
COVID-19 impacted the way graduates were preparing to leave school and enter the workforce. It has left them unsure if their previously confirmed opportunities are now at risk of being cancelled, as news of layoffs are popping up left and right.
All the uncertainty and disruptions can make the already stressful job hunt even more challenging for recent graduates. While not all industries have been drastically affected as others, those graduating under fields like hospitality, retail, tourism, food, and even technology may have bigger obstacles to overcome because of the pandemic.
"Gen Z is graduating into what could be the worst recession in decades – and it means they might earn less, get sicker, and even die younger"
...at least, according to the headline on a Business Insider article.
The truth is that yes, the oldest of Gen Z are graduating during extremely difficult times. They are graduating into a recession worse than the 2008 Global Financial Crisis, as mentioned many times by multiple sources.
What this means for Gen Z is that they will have to deal with higher than average unemployment rates, lower starting salaries, and even lower wages for the years to come since it is still difficult to predict how long it will take for our economies to recover.
Unemployment rate in the Philippines has reached a record high of 17.7% in

Q2 of

2020
For reference, let's look at this chart from Trading Economics.

source: tradingeconomics.com
Unemployment rate has jumped to 17.7% in this second quarter of 2020 from 5.3% in just the previous quarter. This is the highest jobless rate on record, even going as far back as 1994.

source: tradingeconomics.com
17.7% unemployment rate translates to roughly 7.25 million people without a job in the country. And this isn't just in the National Capital Region, but all regions throughout the country have been greatly affected.
The sectors that were hardest hit were the arts, entertainment, and recreation sector, where 54% of workers lost their job. Other sectors include the electricity, gas, steam, and air-conditioning supply sector (43.1% drop in employment), Information and communication (40.6% drop), accommodation and food service (35.8% drop), and construction (33.8% drop).
Fighting for new and different opportunities
The long-term effects of this pandemic have yet to be seen and although many people fear the worst, it has opened up a few other opportunities on the way – all thanks to the power of technology and remote work
Remote work opens up jobs to everyone all over the country without the limitations of a physical space. Because most companies have opted for remote work, this gives opportunities for graduates who would not have been able to relocate to bigger cities or different regions in the country for jobs. As companies are learning that employees can get work done at home, more and more are open to the idea of work outside of the traditional office setting.
For those lucky enough to not be constrained by financial burden (thanks to rent free living at the parents' house), this gives fresh grads time to grow and develop their skills in other ways such as through online courses, trainings, books, podcasts, etc. Fresh graduates and Gen Z have the unique opportunity to amass all kinds of knowledge from these courses, all while adding certifications to their resume.
Looking forward to the future
It is still incredibly difficult to look forward to see how this pandemic will play out. While most people are still on the side of pessimism, there is still a lot that can be done by fresh graduates and Gen Z to prepare themselves for their future.
Trying to find your first job?
Browse through our job board for all the latest jobs from companies hiring right now.
JUNE 20, 2020