RIGHT TO FLEXIBLE WORKING: A RIGHT EVERY FILIPINO WORKER DESERVES
MAY 30, 2019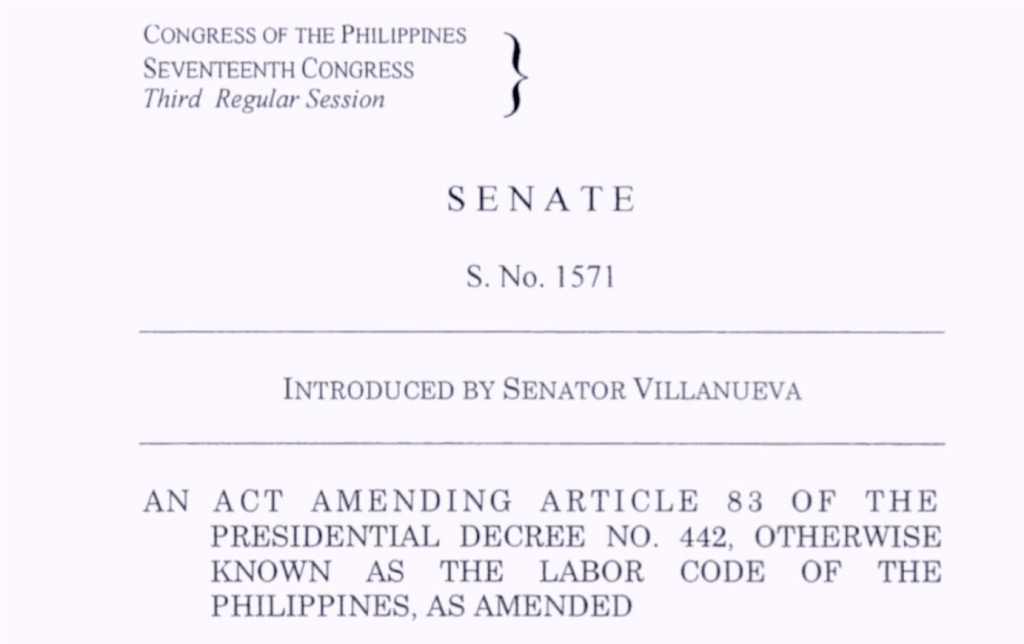 The Philippine Senate has passed Senate Bill No. 1571 also known as the Alternative Working Arrangement Bill. Under this bill, employers and employees have the option of exploring alternative working arrangements that are more flexible.
According to, Sen. Joel Villanueva, the principal author of the bill: "With this bill recognizing alternative working arrangements, we provide more options for both employers and employees to render their work in the most efficient manner." He adds: "Work arrangements such as flexi-time, compressed work week, and shift flexibility, among other arrangements are voluntary and subject to the agreement between employers and their employees."
This bill seeks to amend the Philippine Labor Code, specifically Article 83, which states that, "The normal hours of work of any employee shall not exceed eight (8) hours a day." Under the Senate Bill No. 1571, the total weekly working hours should not exceed 48 hours and, most importantly, employee benefits should not be affected.
What is Flexitime?
Dictionary.com defines Flexitime as a system of working that allows an employee to choose, within limits, the hours for starting and leaving work each day. This is already practiced by companies in the Philippines. But with the bill, it formalizes the arrangement.
Why Flexitime?
With the advent of modern technology, workers no longer need to be tied to their desks to perform their duties. Offering more flexible working arrangements makes companies more attractive for job seekers. "Flex-time is a cheap and cheerful solution. It gives people some freedom to choose their work hours and improves work-life balance. The employer gains in attracting and retaining solid talent," says Neil MacIntosh.
But what exactly are the advantages of flexitime in the work place?
1. Increase and improve productivity
One might think that employees who are given more leeway with their working hours might become less productive. This is not the case. According to Jessica Howington, Content Manager for FlexJobs, "There are several reasons for increased productivity through the offering of flexible work programs. Not only are employees given more control over how they put their time in, they are also provided with an environment of trust and autonomy. With happier employees and a more trusting environment, productivity increases." Furthermore, by scheduling their work when they know they are at their best, employees can create more, achieve more, and produce more.
2.

Attract the best
As more and more companies offer flexitime, it has become one of the company perks that job seekers look for. As Boris Dzhingarov, founder of MonetaryLibrary.com states, "Offering flextime as one of your company's benefits, or just an element of your culture, is a good way to attract more talented candidates. In industries that rely on top talent to be effective, such as in tech, this is almost a necessity; you'll need to offer flextime just to keep up with the offers your competitors are making to the most talented individuals in the industry."
3.

Better Attendance
Let's face it, life will always get in the way of work. And trying to get all of life's demands while still trying to get your job responsibilities completed from 9 to 5 is not always successful. Somewhere, somehow, something will suffer. This can mean taking the morning off to run errands or leaving early to attend your child's school activities. With a flexible schedule, employees can adjust their work schedule around their personal commitments. No need to take the morning off to attend the Parent-Teacher Conference— just work an adjusted schedule.
Jessica Howington explains, "Rather than take paid time off (or worse, call in sick when they're really not), employees utilize their flexible schedule to move their hours around to accommodate appointments or other events—while still staying on top of their workload."
4.

Keep overhead costs low
Flexitime can also have a positive impact on company expenses such as electricity, equipment, and supplies. "Depending on how flextime is broken out, you might find that you have lower overhead costs. If employees work drastically different hours, they can share office space and equipment, saving the company money," says Susan Nathan employee benefits expert. This can only be a good thing.
5. Freedom from rush hour madness
Anyone who lives and works in Metro Manila has encountered the dreaded Manila traffic. With flexible schedules, employees can avoid the rush hour both going to and coming home from the office. They can time their work schedule around the worst traffic times on their routes. This way they get to spend more time at work and at home and less time stuck on the road.
As Sen. Villanueva, who is also the Chair of the Senate Committee on Labor, Employment and Human Resources Development stated: "We are now in the age of robotics, the so-called Fourth Industrial Revolution or Industry 4.0. Today, work need not be confined in a certain place or office. Work need not happen at the same time. Work can be done remotely."
MAY 30, 2019