RECRUITDAY SCOUTS FREQUENTLY ASKED QUESTIONS
DECEMBER 19, 2018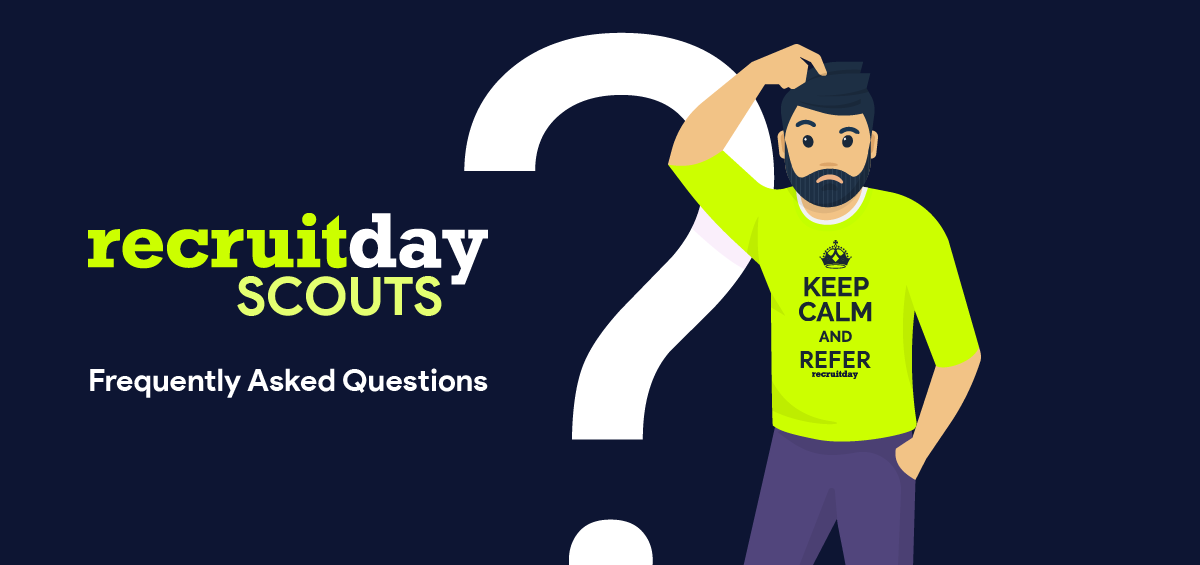 How do I refer jobs?
Select Refer Jobs from the main menu to view all job listings and corresponding rewards. Choose a job listing and click the Refer This Job to generate a unique referral link which you can share to your social network. Anyone who applies to the job using your link will be tagged as your referral.
How will I earn rewards?
Employers define the reward amount and schedule of referral rewards and are made available to you for each job listing published. The reward schedule is based on the job application status of your referral with the employer, e.g. Pre-Screened, Shortlisted, Hired, or x months after hire.
You will earn the corresponding referral reward for every status completed in your referral's job application. You will be notified via email as soon as you earn a reward and can be viewed in your Referral Portal in My Rewards page.
How will I redeem my earned rewards?
Make sure you have set your Payment Method before redeeming your earned rewards. Go to Edit Account > Payment Method, choose your bank, and fill out your account name and account number.
Then go to Home, and click the Redeem button. This action will trigger Recruitday to start processing the rewards payout to your designated bank account. The processing may take up to ten (10) banking days from the redemption date.
You will not be allowed to make another redemption request if there's a request currently being processed.
Can I refer jobs to anyone?
Yes. But note that Recruitday monitors the quality of your referrals (e.g. number of applications to hire ratio) over time and could set the number of job listings you will be able to see and refer, based on your score. It is strongly suggested that you refer jobs only to those who you think are qualified for the positions.
Can I refer more than 1 job to a candidate?
Yes, as long as it's not the same position within the same company.
My reward has been cancelled. What does this mean?
This means that the employer did not confirm the referral reward due to the following reasons: (a) the referral withdrew his/her job application before the reward date; or (b) the referral resigned before the reward date.
The status of my referral and/or reward is not correct. What should I do?
It is the employer's responsibility to update the status of your referral's job application and confirm the reward in the system. If this is not happening, please contact us immediately.
DECEMBER 19, 2018