RECRUITDAY. REWARDS TIME.
JUNE 07, 2019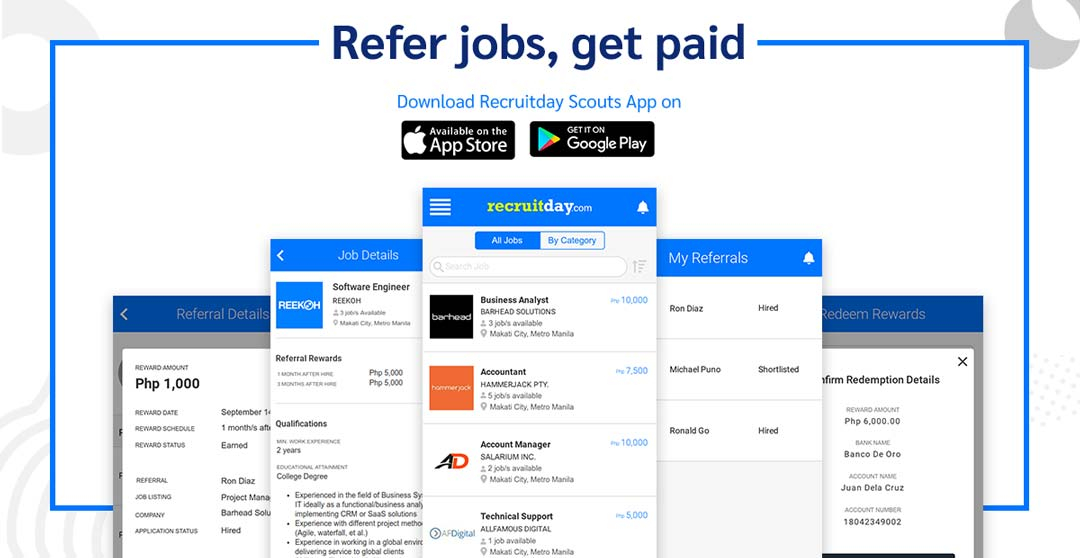 Pull out that smartphone, and scout your friends for great jobs at Recruitday.
Recruitday Scouts make some cool cash when they successfully match their Facebook friends with open positions on the portal.
Anyone can earn as much as P20,000 (where does anyone earn that clicking on a smartphone?) for EVERY successful referral. And, when you download the Recruitday Scout app, you can refer your social media contacts to jobs at Recruitday anytime, anywhere - at home, at a cafe, lining up for milk tea, or even when you're stuck in crazy Manila traffic!
Now you're hustling.
And so without further ado, here are some of the highest rewards along with some of the neat job requirements that are now available for our social savvy scouts:
---
P20,000 REWARD. WANTED:

DELIVERY LEAD, BARHEAD SOLUTIONS
·At least 8 years experience in consulting services and delivery management
· At least 5 years experience in project management
DATA ARCHITECT, BARHEAD SOLUTIONS
· At least 8 years of experience developing solutions involving data modeling and/or reporting
· Hands-on experience in designing and architecting database

P15,000 REWARD. WANTED:
DATA VALIDATION SPECIALIST - INFINIT-O MANILA
· At least 2 years experience
· Advanced skills in Python, tableau, and Excel

BACKEND DEVELOPER (PHP | LARAVEL) - SALARIUM
· At least 4 years experience
· Highly proficient in PHP and Linux; Python knowledge is a plus
P10,000 REWARD. WANTED.
FINDERE PLATFORM MARKETING & PRODUCT MANAGER - EINHORN RESOURCES
· 5 years business development, sales or product management experience in a technology related business
· Understanding of data analytics, CRM, API's, general technology understanding & trends

BPO QUALITY MANAGER - TRANSCOM WORLDWIDE
· At least 1 year(s) of working experience in the related field is required for this position.
· Applicants must be willing to work in Iloilo City.
· Preferably 1-4 Yrs Experienced Employees specializing in Customer Service or equivalent.
These are only some of the highest rewards now available for Scouts on the Recruitday job portal.
For more details on these and other job postings, download the Recruitday Scout App now, available for free on both iOS and Android platforms, and start referring away!
JUNE 07, 2019