NEWS & UPDATES
FILIPINO TECH CAREER SEEKERS TROOP TO RECRUITDAY METAVERSE LAUNCH
JUNE 16, 2022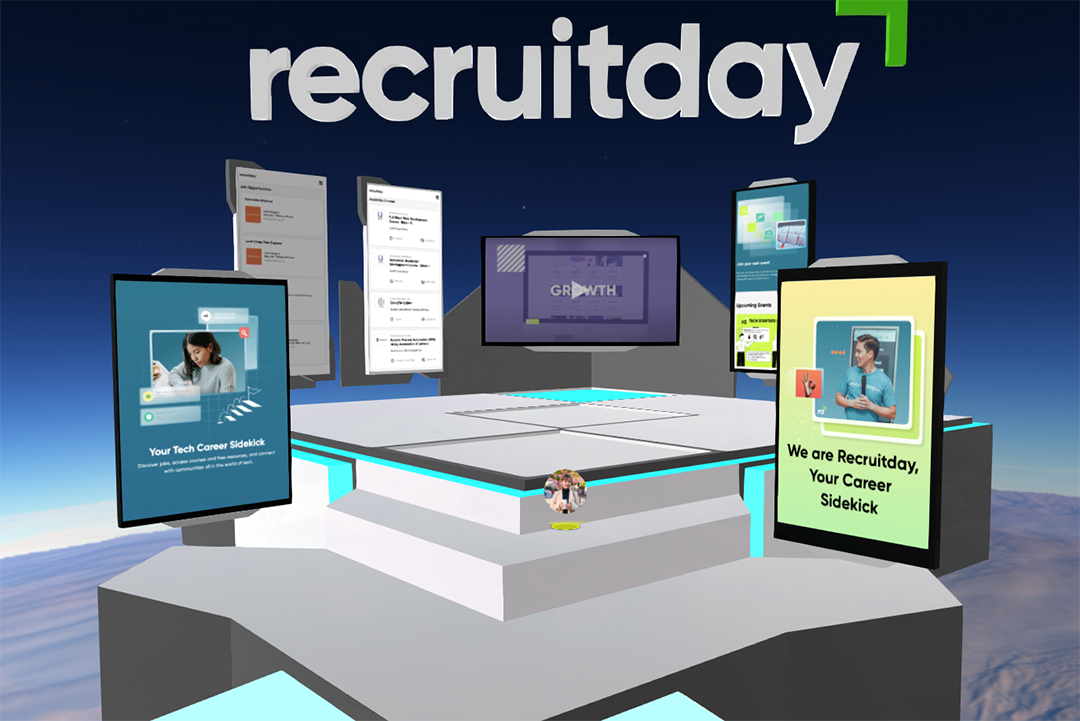 Recruitday brings Filipinos closer to a tech career with the launch of Recruitday Metaverse, the Philippines' first-ever metaverse-based career platform
On June 10, 6:00 PM, recruitment solutions startup Recruitday completed the launch of the Recruitday Metaverse, the Philippines' first-ever career platform based in the metaverse.
The metaverse is a broad term meaning an immersive and interactive virtual space powered by the internet, virtual reality, blockchain, and more. In simple terms, the metaverse aims to take what people do in real life—such as going to a concert or attending a meeting—and replicate that experience virtually.
Leveraging the concept of the metaverse, Recruitday Metaverse is an interactive, virtual space where participants can explore possible career opportunities in the tech industry. The space functions much like a real-life job fair, with the key difference being that it is accessible 24/7.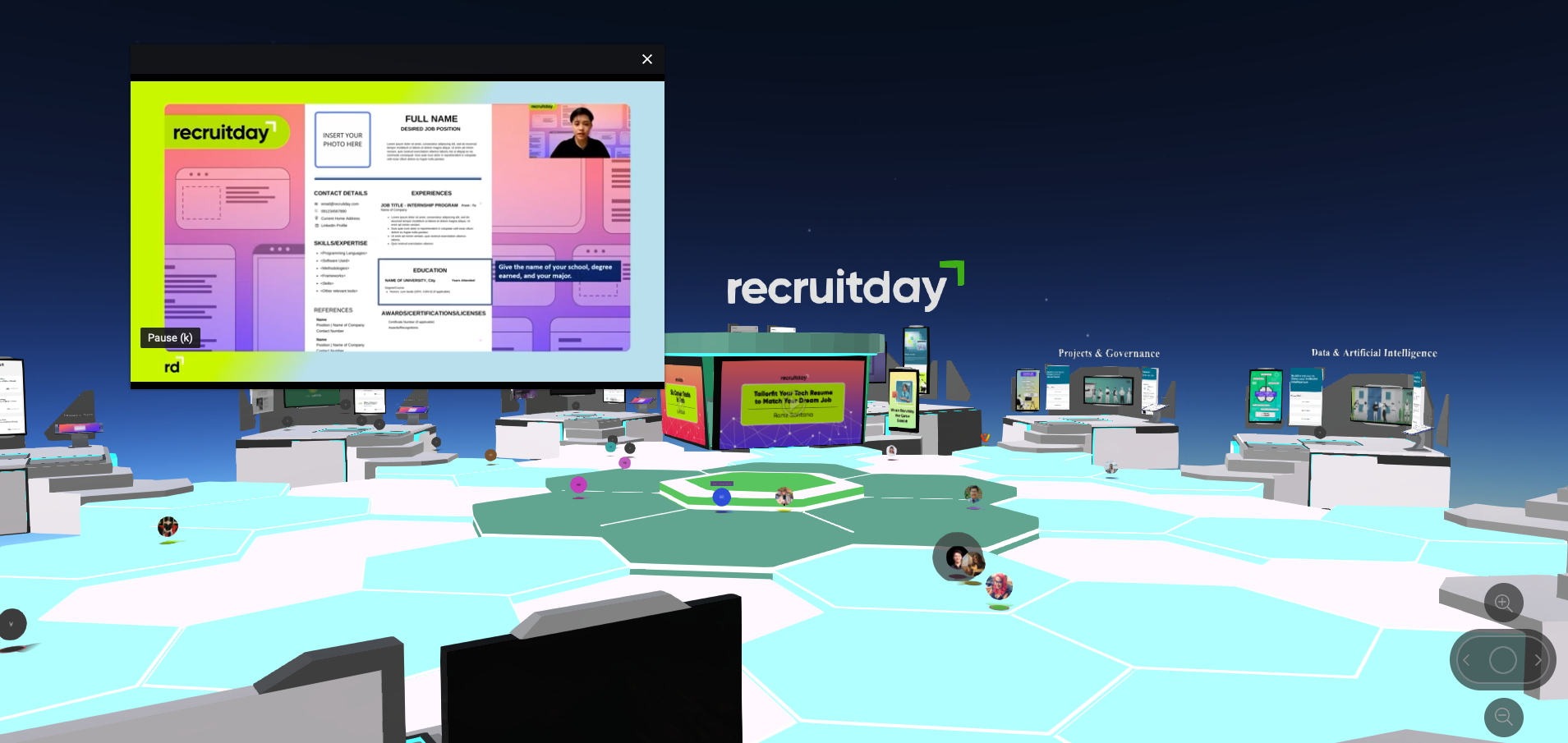 The launch gave users the chance to mingle with tech communities, consult with recruiters for career advice, and even avail of tech-related courses. Attendees even had the chance to win an Oculus Quest virtual reality headset.
"The Philippines has a wealth of untapped tech talent," said Recruitday Founder and CEO Joel Garcia. "We recognize this and have previously offered key resources like workshops, courses, and job fairs to help Filipinos take advantage of opportunities in tech. With the metaverse, we're able to put all of these efforts together in a way that allows people to interact and engage with their peers, mentors, partners, and the community."
Recruitday Metaverse is accessible via this link, with users needing only an internet connection and Google Chrome. How it works is that users will enter the link and be taken to a virtual space filled with virtual talks and booths displaying the different career tracks in the tech industry. Users can move around in Recruitday Metaverse by using their mouse or keyboard. Users can even talk to anyone they encounter in Recruitday Metaverse by simply unmuting themselves and/or turning on their camera.
At the center of Recruitday Metaverse are four virtual displays with pre-recorded talks meant to inform them on what it takes to establish a tech career. These talks are headed by data scientist Bash Yumol, tech community manager Atcha Abe, Recruitday recruitment head Ly Poticar, and tech recruiter Romz Santana. Their talks focused on the best ways to succeed in tech, the differences between on-site and remote work in tech, the various possible tech tracks available, and tips on tailor-fitting one's resume for the tech industry, respectively.
Read More: Tips on Creating an Attractive Web Developer Portfolio
All of these talks gave attendees practical tips to help them land a future job in tech. One talk, for example, advised attendees to always highlight key programming skills and certifications to help their resume stand out. Another advised attendees to familiarize themselves with popular programs such as SAP, Microsoft, and Oracle.
"Tech evolves in the blink of an eye," said Poticar in his talk. "The number of opportunities can be overwhelming, which adds to the anxiety of choosing what to do. You need a roadmap. Luckily, the metaverse is great for that."
To that end, Recruitday Metaverse offered various booths focusing on the most in-demand tech tracks in terms of local employment, namely: Data & AI, IT Infrastructure, Software & Applications, IT Security, Tech Project Management, and customer relationship management (CRM).
Each booth displays the qualifications needed for jobs in that career track (such as fluency in a programming language like Python), an expected salary range, a listing of job vacancies in that track, and even links to courses that will help make people qualified to work in that track. These booths are available 24/7.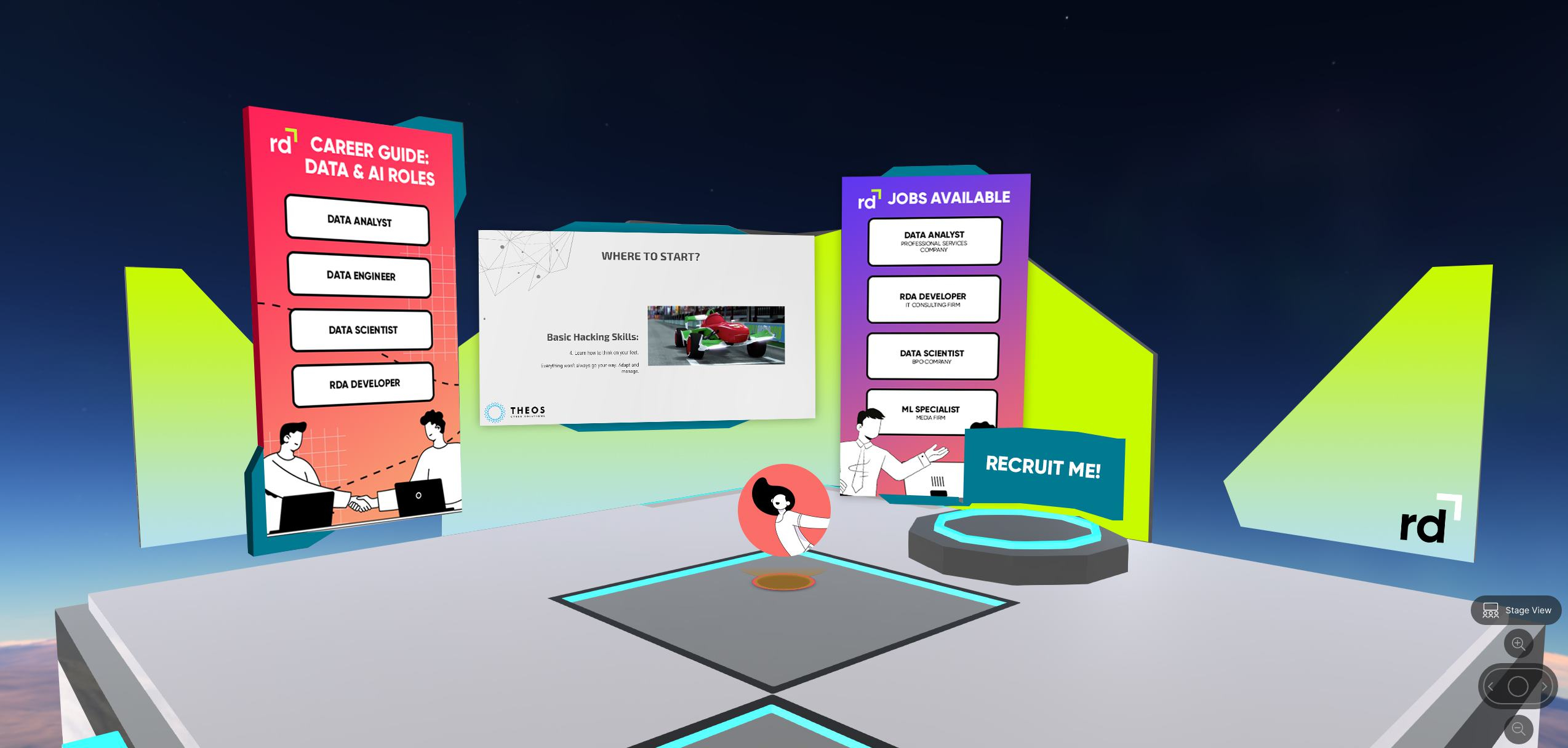 During the launch, Recruitday officers were even present at each booth to assist opportunity seekers with any questions they had either with the Recruitday Metaverse or shifting to a tech career in general. In case a Recruitday officer is not available at the booth during a certain time, there is even an option for users to leave their questions and be contacted at a later time.
All in all, Recruitday Metaverse offers a lively and hands-on approach to nonstop career-building. The interactions offered in its career hub not only make it easy for opportunities to upskill, but also provide personal interactions key for building a network they'll use throughout their career.
"With Recruitday Metaverse, we built a platform that makes it easier than ever for Filipinos to form a community and capture the opportunities that are just waiting for them," concluded Garcia. "In the future, we hope more and more Filipinos will take advantage of the endless possibilities behind the metaverse."
-- Article written by Ambidextr
Ready to join a tech workforce of driven and motivated professionals? Check the available tech jobs in your chosen track, register in training courses to upskill, or refer your friends and earn today.
JUNE 16, 2022
Find Your Next IT Career
Job opportunities in different tech roles. For all career levels.
CREATE AN ACCOUNT