11 THINGS TO DO WHEN YOU'RE STUCK AT HOME
JUNE 13, 2020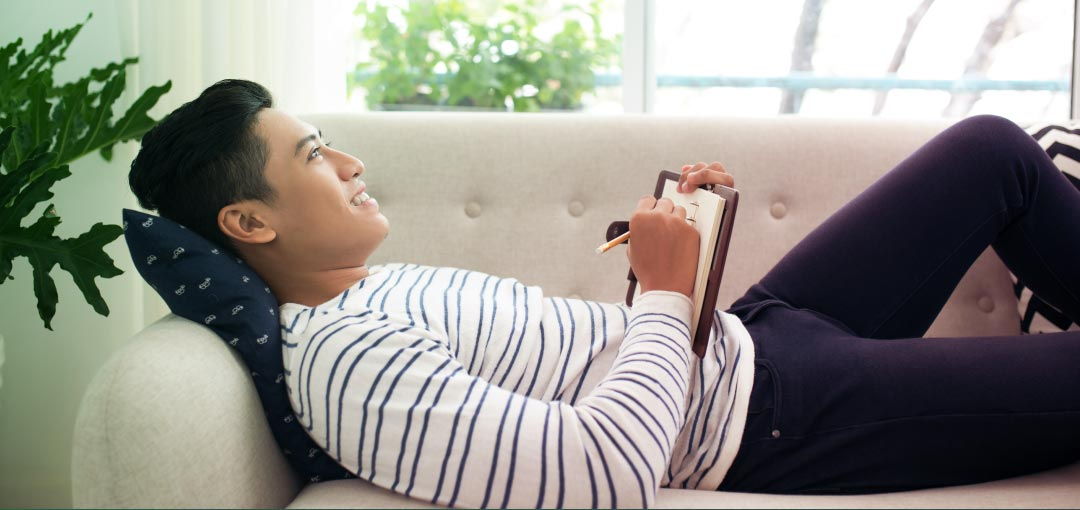 ---
CONTENTS
Clean the house and declutter – Kon Mari style

Refer jobs and earn rewards

Create and write a journal

Study and upskill – try the Recruitday Bootcamp!

Virtual game nights and inumans

Learn a new language – Spanish? French? Python

?

Try new recipes

Find a podcast to listen to – like the Techph.org podcast!

Draw, paint, or create some art

Update your resume and professional profiles

Exercise, learn to meditate, take care of yourself
---
Most of us have been locked up at home since the start of quarantine. Even though work is keeping us busy most of the time, daily life might be feeling repetitive right about now. There are only so many things you can do at home, and all the things we used to do outside like movies or going to the mall is still limited.
If you're getting bored of your daily stuck-at-home routine, here is a list of 11 things you can do and try while we wait for the world to heal.
Clean the house and declutter
I don't know about you, but it seems that the house gets dirty a lot quicker now than it did before. Maybe because we're inside 24/7! Let's reduce some stress that comes from a mess and declutter – Kon Mari style. If you still haven't heard of Kon Mari, time to do some research.
Mess and clutter have been proven time and time again to cause stress and other negative feelings. In fact, a study published in Current Psychology, found a link between clutter and PROCRASTINATION. Since most of us are now working from home, you can't afford the underproductivity that comes from procrastination. So, gather some trash bags, pick up that broom and basahan, and get cleaning! Remember, mess = stress.
Refer jobs and earn rewards
One way you can kill some time is to refer jobs. Not only is it a way for you to earn some extra cash on the side, but you get the satisfaction of helping someone land a job. Recruitday has hundreds of job vacancies to fill with rewards as high as PHP 20,000 up for grabs. This is something you can do part-time, full-time, or on the side.
How it works is you browse through jobs with rewards, then select one you are interested in. When you click the "Refer and Earn" button, you will be asked to sign in or register if you don't have an account. After signing in, a referral link will be generated that's unique for you, then you can share it with your network through social media, email, or direct message.
Then all you have to do is sit back and relax. Your candidate will go through the referral process, and if they get hired, you'll receive the rewards. It only takes a few minutes of your day (unless you do it full-time), so why not?
LEARN MORE: Learn about Recruitday's Refer & Earn program here.
Create and write on a journal
Journaling is good for your mental health – something we need to be aware of right now given our current situation. A lot of us are feeling stressed and anxious from the situation, maybe even a little depressed. Journaling can help. According to the University of Rochester Medical Center, journaling can manage anxiety, reduce stress, help you cope with depression, as well as control symptoms and improve mood.
You can simply get a notebook and write whatever you feel every day, or browse through Pinterest for "journal prompts". Some of these prompts will help you dig deep into your personal life and emotions, while others are light and may spark your creativity with quirky questions.
Study and upskill
Since the start of quarantine, many Colleges/Universities and online course providers have offered free courses that you can take. If you find that you have more time on your hands these days, turn that time into something you can put on your resume – study and upskill! You can find tons of courses online like through the Recruitday Bootcamp. It offers online classes that are both self-paced and instructor-led to help you upskill your way to a brighter future.
SEE MORE: Check out all available courses from the Recruitday Bootcamp here.
You can also learn something new just by attending webinars and online talks. There's an endless supply these days that discuss all kinds of topics. Techph.org, for example, holds Online Saturday Sessions and Wednesday Workshops that invite leaders of the tech industry to discuss the latest news and even teach you a thing or two.
No matter what the medium, it's a good idea to continue learning and growing. Whether it's to have a kickass resume or just to develop yourself, never stop the learning!
Virtual game nights and

inumans
While studying and upskilling is important, you need a break too! Without a doubt, the lines of work and home have been blurred as we've been working from home, but you still need to make the effort to rest and have some fun. Reconnect with friends and your colleagues that you miss with virtual game nights and inumans! All you need is an online communication tool like Zoom, Microsoft Teams, Skype, or even just Facebook, and an ice cold bottle of beer.
Learn a new language
Hola, que pasa? Commet allez-vous? Vad gör du? Whatever language you want to learn you can find on YouTube or even through cool, interactive apps like Duolingo. Trying to learn a new language will definitely help you kill a lot of time, so pick one, and get learning.
Or, you can try learning a whole different language all together – a programming language! Without a doubt, the information technology industry is one of the most in-demand industries today, and it will continue to grow as the years go by. A smart career move might be to pick up a basic programming/coding language. Python and JavaScript are good places to start.
SEE RELATED: Top 5 programming languages in 2020.
Try new recipes
YouTube alone is filled with thousands (if not millions) of recipes. Use this time at home to level up your cooking skills! With how difficult food deliveries have been, I'm sure that your cooking skills have somehow developed even a little. Keep trying new recipes and think of it as meal prep ideas for a packed lunch for the day that we can all go back to the office safely.
Find a new podcast to listen to
Podcasts cover everything under the sun. The great thing about podcasts is you can listen to them while doing something else like cleaning, taking a shower, or maybe even working – if you're the type who can do that. There are a lot of cool ones to check out. For us 90's kids who grew up watching One Tree Hill as teenagers, Sophia Bush has a podcast called Work in Progress. You can also try TED (they have multiple shows), Thrive Global, Secrets of the Most Productive People, and Ear Biscuits.
SEE RELATED: 9 Podcasts to Boost Your Career (Or Your Life)
If you're more into tech podcasts, TechStuff has interesting episodes. Or if you're looking for something local, you can check out Techph.org which has an independent podcast project that promotes continuous learning and expertise-sharing amongst tech students and professionals. Each episode brings you leaders and innovators in the field of technology in the Philippines.
SEE MORE: Find the Techph.org podcast here.
Draw, paint, or create some art
Drawing or painting (or even just doing something creative) can help you get out of your head for a while and even improve your mood. It doesn't even matter if you can't create a masterpiece, simply creating art can reduce stress. A study from Drexel's College of Nursing and Health Professions showed that art therapy can lower cortisol levels – the lower your cortisol level, the less stressed you are.

Update your resumes and professional profiles
It may be kind of difficult to do a job search during a pandemic, but if you're in the middle of the search right now, you can update your resume, portfolios, and professional profiles. Be sure to add any new skills and knowledge you've acquired either in your current job or through your online learning sessions. It's also a good idea to tweak your resume for each job you apply to by highlighting your key skills relevant to that job.
LEARN MORE: Job search during a pandemic? Here's how to do it.
Exercise, learn to meditate, take care of yourself
The most important thing you can do during this time is to take care of yourself! Exercise regularly, learn to meditate, or even talk to a therapist – there are plenty available online. Do whatever will keep you health both physically and mentally. We've got a long way to go with this pandemic and we need the endurance and mental resilience to get through.
Looking for a new job?
Check out our job board for all of the latest jobs you can apply to right now.
JUNE 13, 2020