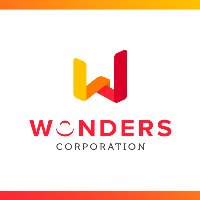 Wonders Corporation
Pasig City, Metro Manila
Information Technology
About Wonders Corporation
Wonders Corporation is a technology-enabled service company headquartered in New York City. The company specializes in providing ordering taking, marketing, social media management, and data analytics for the restaurant industry.
Wonders Vision: We are the leading technology and customer service partner for restaurants everywhere.
Wonders Mission: To provide a virtuous ecosystem of tools and services to restaurant operators to help them be more successful.
Wonders Core Values: Client Focus, People-centric, Relentless, Substance, Creative, Efficient, Simplicity
Our Technology Stacks: Linux, Ubuntu, Java, Spring, Spring MVC, Spring Security, Spring Boot, MyBatis, Apache CXF, Maven, MySQL, Redis, MongoDB, Nginx, Tomcat, Jenkins, Git, Amazon AWS, New Relic, Unix, HTML, CSS, Javascript, Jquery, ExtJS, AngularJS
Company Details
Office Address
8/F Rockwell Business Center, Ortigas Avenue, Pasig City, Metro Manila
Company Size
201-500 Employees
Jobs at Wonders Corporation