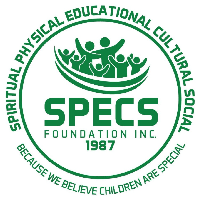 SPECS Foundation Inc.
Pasay City, Metro Manila
Non-Profit
About SPECS Foundation Inc.
We are SPECS Foundation, Incorporated, a non stock, non-government organization registered with the Securities and Exchange Commission under Certificate No. 141730 issued on October 16, 1987, registered by Department of Social Welfare and Development under Registration No. 000092-2011 expiring on August 11, 2018 serving street children for the last 28 years.
SPECS an acronym of Spiritual, Physical, Educational, Cultural and Social interventions for street children, has various programs to address the needs of street children in order to realize its vision and mission of being a platform for children's rights and protection while assisting them become self-reliant and achieve their potentials.
Company Details
Office Address
Lot 1 Block 59, Saint Peter corner Sampaguita Streets, Brgy 184, Maricaban, Pasay City, Metro Manila
Company Size
11-50 Employees
Jobs at SPECS Foundation, Inc.