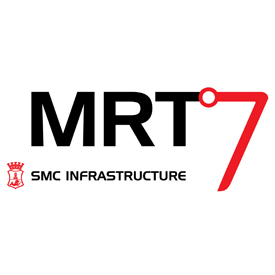 SMC Mass Rail Transit 7 Inc.
Mandaluyong City, Metro Manila
About SMC Mass Rail Transit 7 Inc.
Overview

The Manila Metro Rail Transit System Line 7 (MRT-7) is an under-construction rapid transit line in the Philippines. When completed, the line will be 22.8 kilometers long serviced by 14 stations. The line runs in a southwest direction, beginning at San Jose del Monte, Bulacan up to the under-construction Unified Grand Central Station located in North Avenue, Quezon City. MRT Line 7 will traverse Quezon City and Caloocan in Metro Manila, and is envisioned to spur business and commerce at its inter-modal terminal station in San Jose del Monte, Bulacan. According to the PPP Center website, the project is 22.63% complete as of January 26, 2018.

The MRT-7 project will cost an estimated US$ 1.54 billion or PHP 62.7 billion.

Background
Universal LRT Corporation BVI (ULC), a subsidiary of San Miguel Corporation (SMC), was selected by the Department of Transportation and Communications to build the MRT Line 7 in 2008. SMC tapped the consortium of Hyundai Rotem and EEI Corporation as the engineering, procurement and construction contractor. The Department of Finance issued the terms of financial guarantee for MRT-7 in 2014, and financial closure for the project was achieved in February 2016.[4] The project was developed through a public-private partnership (PPP) and it has an indicative cost of ₱62.7 billion.

The new line will include a 22.8 kilometer of a mostly elevated railway line with 14 stations. The project also includes construction of a 22 kilometer highway from the NLEX Bocaue Interchange, up to the proposed intermodal transport terminal located near San Jose del Monte station.

Route
MRT Line 7 will start at San Jose del Monte station located in San Jose del Monte, Bulacan and will end at the Unified Grand Central Station in Quezon City. Its depot will be located before San Jose del Monte station.