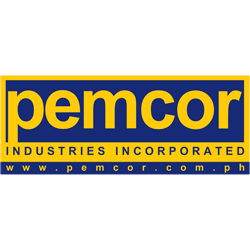 PEMCOR INDUSTRIES INC.
Paranaque City, Metro Manila
Engineering
About PEMCOR INDUSTRIES INC.
For 20 years now, PEMCOR Industries Inc. has utilized an excellent approach to the science of electrical engineering. In line with today's demands, we commit ourselves to providing efficient and reliable solutions that will pave the way for a more progressive electrical industry in the local and international context.
Engineering Procurement & Construction (EPC) contractor for electrical, mechanical, telecommunications, solar energy, renewable & alternative energy, and heating ventilations air-conditioning (HVAC) projects.
As PANEL BUILDER -- HVSG and LVSG, MCC, Panelboards, Control Box, ATS & MTS, Cable Trays, Meter Centers, Pull Box, Type Tested Enclosure, LVSG, Capacitor Bank Enclosures and Any Custom made Electrical Enclosure.
As SYSTEM INTEGRATOR -- Pemcor CCTV, Pemcor Busduct, Pemcor Solar, Pemcor Switchboards, Pemcor Lighting, Pemcor Cable Tray System, Pemcor Modular Enclosures, Pemcor Energy Management System, and Pemcor Scada.
Company Details
Office Address
Pemcor Industrial Plant, Lot 3 Dama De Noche UPS IV, West Service Road, Sucat, Paranaque City, Metro Manila
Company Size
51-200 Employees
Jobs at PEMCOR INDUSTRIES, INC.