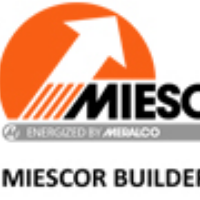 Miescor Builders Inc.
Quezon City, Metro Manila
Engineering
About Miescor Builders Inc.
MIESCOR Builders is a wholly-owned subsidiary of Meralco Industrial Engineering Services Corporation (MIESCOR), established in 1995.
It holds the highest contractor license category AAA with main specialty in electrical works and expertise in general engineering and building, civil and mechanical works.
Miescor Builders is now the biggest contractor of MERALCO, serving its whole franchise area
As Meralco's technical and back-end support arm, it is responsible for mostly Meralco's electric transmission and distribution system
It also does installation and maintenance jobs for fiber optic and telecommunication networks, exchange centers and other telecommunication facilities of affiliated companies
Company Details
Office Address
#2, Anonas Extension Sikatuna Village, Quezon City, Metro Manila
Company Size
501-1000 Employees
Jobs at Miescor Builders Inc.