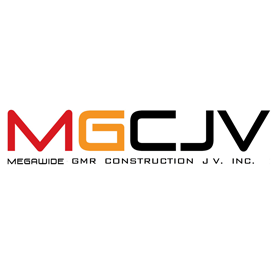 MGCJV Inc.
Angeles City, Pampanga
Architecture and Construction
About MGCJV Inc.
Megawide is one of the country's most progressive infrastructure conglomerates with a decisive portfolio in Engineering, Procurement, and Construction (EPC), Airport Infrastructure, Progressive Property Development, and Renewable Energy.
Its revolutionary construction and engineering solutions continue to shape the industry by integrating its comprehensive EPC capabilities with innovative construction support technologies such as precast, formwork systems, and concrete batching.
Megawide is a strong partner of the Philippine government through the Public-Private Partnership (PPP) program, with projects such as the Mactan Cebu International Airport, the Southwest Integrated Transport System, and the PPP for School Infrastructure Project Phases 1 and 2.
About Us
It was in 1978, when Mr. G.M Rao started off with a small jute mill, and established, over 28 years later, what is known today as the GMR Group. GMR is today a major player in the Infrastructure Sector, with world class projects in India and abroad. The GMR group is headquartered in New Delhi, and has been developing projects in high growth areas such as Airports, Energy, Transportation and Urban Infrastructure.
GMR Group is one of the fastest growing infrastructure enterprises in the country with a rich and diverse experience spanning three decades. With our vibrant portfolio of projects, GMR is uniquely placed to build state of the art projects in sectors that are of critical importance in the process of development. Using the Public Private Partnership model, the Group has successfully leveraged its core strengths to implement several iconic infrastructure projects in India.
Airports
GMR Group currently owns and operates Delhi International Airport and Hyderabad International Airports. The Group is developing Goa's greenfield airport at Mopa reinforcing our standing as India's largest private airport company. Apart from being the largest private airport company in India, GMR Group is also the only Indian airport developer to have developed and operated airports outside India. GMR Infrastructure in partnership with Megawide Construction Corporation of Philippines is operating and developing Mactan Cebu International Airport – the second largest airport of Philippines.
Company Details
Office Address
Friendship Highway, Angeles City, Pampanga
Company Size
501-1000 Employees