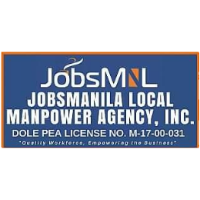 JobsManila Local Manpower Agency Inc.
Mandaluyong City, Metro Manila
Manpower and Recruitment
About JobsManila Local Manpower Agency Inc.
COMPANY PROFILE
JobsManila Local Manpower Agency (JLMA) is a brainchild of JobsManila
International, Inc. (JobsManila), one of those leading international
recruitment and placement agencies licensed by the Philippine Overseas
Employment Administration (POEA). Having been in the recruitment
industry for almost ten (10) years, the management of JobsManila
International, Inc. saw the imperativeness of establishing a local agency
that would cater to those Filipinos whose mindsets are focused on the
thought of being with their families while having good careers or
opportunities here in the Philippines. Hence, the creation of JLMA in
December 2015. It is duly registered with the Securities and Exchange
Commission (SEC) and is engage in the business of contracting, enlisting,
recruiting professional personnel and workers both skilled and unskilled for
local employments or placements. It is well equip in terms of finances,
manpower and office facilities.

JLMA have inherited the massive networks and affiliations of its mother
Company, JobsManila which, the latter have for a long time. Envisioning
for an exponential growth in its early years of operation, the management
of JLMA already made an agrressive yet wise approach of hiring a set of
well-verse and/or highly competent staff, with strong background in the
operations of local recruitment and placement agency. Add to that, it
has capitalized into modern equipments and conducive work place that
would greatly contribute to the effective delivery of services to its valued
clienteles.

Its leaders and staff have extensive experience in recruiting professionals,
skilled workers and semi-skilled workers. It guarantees the quality and
qualification of its hired candidates. It is further committed to the Vision &
Mission of professionalism and platinum quality service. Its staff are honed
not only in terms of technical competence but also with a high sense of
professionalism, maturity and personal integrity. Like its mother Company,
the aim of JLMA's founders is to enhance a mutually beneficial
partnership between the company management and the workforce.
Company Details
Office Address
Unit 01 2F Elena Roces Building, , No.7 Pioneer St. corner Sheridan St.,, Mandaluyong City, Metro Manila
Company Size
11-50 Employees
Jobs at JobsManila Local Manpower Agency, Inc.