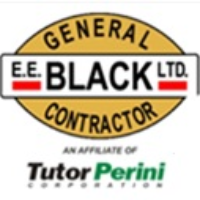 E. E. BLACK LTD.
Tarlac City, Tarlac
Architecture and Construction
About E. E. BLACK LTD.
ABOUT US
E. Black, Ltd. is the only fully American owned company with continuous existence in the Philippines since 1959. E. E Black, Ltd. has a long and successful history with projects encompassing civil, structural, architectural, mechanical electrical and plumbing,
Over the years, E. E Black, Ltd. has developed diversity and flexibility and has earned the reputation for uncompromising standards resulting into an increase in number of new clients as well as continuous engagement of existing clients, thereby earning the company's slogan, "On track with Black".
OUR MISSION
Armed with 60 years of steady growth in operations and multi-million dollar worth of completed projects, we will continue to be an industry-leading construction firm that values and develops highly skilled individuals/employees to contribute to the continuous growth and sustainability of the Company.
We will exemplify integrity and fair dealings with our Clients, meet their challenges with multi-skilled employees, and continue to expand and improve to be one of the industry's top contractor.
We will continue to excel at making success stories on high profile projects that few contractors are willing to undertake.
OUR VISION
We will continue to expand on our diversity while building the largest and most complicated building and heavy civil work projects found anywhere in the world.
OUR QUALITY POLICY
As one of the pioneers in the construction industry, E. E. Black, Ltd. aims to consistently deliver straight-forward, professional and reliable services for the benefit and safety of our clients and general public.
We shall continually expand and improve our construction services by:
Maintaining competent, disciplined and highly motivated employees,
Engaging subcontractors with vast expertise to ensure excellent quality to the satisfaction of our clients
Completing a well-planned construction method with the use of suitable and quality construction materials approved by the clients;
Promoting safe construction environment;
Ensuring compliance with the bureau of working conditions as mandated by the Labor Code of the Philippines
We are committed to conduct our business with integrity, transparency and fair dealing by:
Supporting community economy that will help uplift the living of Filipino families by creating extensive employment;
Observing compliance to legal, regulatory and statutory requirements;
Constructing and delivering good quality projects on time;
Upholding the Anti-graft and Corrupt Practices Act (R.A. 3019 of the Philippines and Sabarnes-Oxley Act of 2002 of the USA);
Promoting healthy competition; and
Continually improving the effectiveness of our quality management system.
Company Details
Office Address
CAPAS, Tarlac City, Tarlac
Company Size
1001-5000 Employees