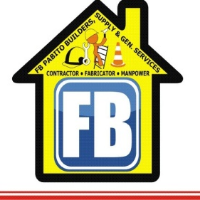 FB PABITO BUILDERS SUPPLY AND GENERAL SERVICES
Architecture and Construction
About FB PABITO BUILDERS SUPPLY AND GENERAL SERVICES
FB PABITO BUILDERS, SUPPLY AND GENERAL SERVICES is a duly registered company, with principal office address at Brgy. Coliat, Ibaan, Batangas. The company started as a modest subcontractor from different recognized company that gave us niche in construction.
In a span of more than 3 years up to present, from experience we endeavor, we give outmost importance to client satisfaction, completing our projects ahead of time but with the highest quality, attainable and at a reasonable cost.
It has been steadily building up through the years of experience and efforts of it's staff led by the General Manager and Proprietor, Francisco Q. Pabito.
Capabilities in construction demonstrated, tested and proven in various projects with competent engineers and professionals backed up by strong, skilled and dedicated workers.
Company Details
Company Size
1-10 Employees
Jobs at FB PABITO BUILDERS SUPPLY AND GENERAL SERVICES