WORK FROM HOME! CX Professional for Quezon City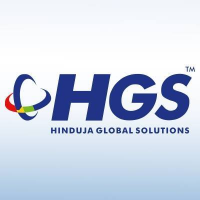 Hinduja Global Solutions (HGS)
Remote / Work-at-Home
Hiring until October 12
Job Description
Job Description:
Responsible for delivering outstanding customer service
Upbeat, outgoing, motivated persons, with the entrepreneurial spirit needed.
Ensures customer satisfaction and loyalty by assisting and resolving a wide variety of customer requests, inquiries and complaints.
Roles & Responsibilities
Handles inbound calls on the first call, through the use of proactive customer service and call control techniques and proven troubleshooting procedures
Creates an exceptional experience for the customer by using professional customer service techniques, personalizing and focusing on adding value to the call
Retains existing customer/services through the use of proactive customer service/consulting techniques and enabling customers to perceive value in the service
Consistently improving product knowledge and understanding, participating in ongoing training in keeping with changing business strategies
Manipulate systems and escalate issues to the appropriate personnel for final resolution
Adheres to HGS' policies and procedures and maintain a positive attitude in support of HGS' Commitment to Excellence.
Performs other duties as assigned.
Essential Knowledge skills and training
Must possess strong interpersonal techniques: is positive, pleasant, respectful and customer focused
Must possess a good command of the English language, including excellent enunciation and grammar
Ability to retain detailed important information and/or instruction
Ability to solve complex problems in a Customer Service oriented environment
Ability to comprehend, capture and interpret basic customer information
Ability to exercise emotional sensitivity to customer needs and challenges
Professional attitude, enthusiastic and reliable.
Sound knowledge of telephone etiquette
What we offer:
Day 1 HMO
13th and 14th month pay
Retirement package
20% Night Differential
Top-notch training courses that would help you develop your professional and personal skills
Great working environment
Qualifications
Educational Attainment
Vocational Course
Min. Work Experience
0 year
Qualification Summary
Minimum Qualifications:
* Completed at least 2 years in college
* Good communication skills
* Proficient in MS Office and internet browsing
* Amenable to work in shifts and holidays
* Willing to work in Quezon City
HGS offers:
* Competitive salary package
* Account incentives
* 20% Night differential
* Paid leaves
* Rice Allowance
* Medical and Life Insurance
* 13th and 14th month pay
Benefits
Guaranteed 14th month pay
20% Night Differential
Salary
Php 15,000 - Php 17,000
Employment Type
Full-Time
Work Schedule
Amenable to Any Shift
Job Category
BPO & Customer Service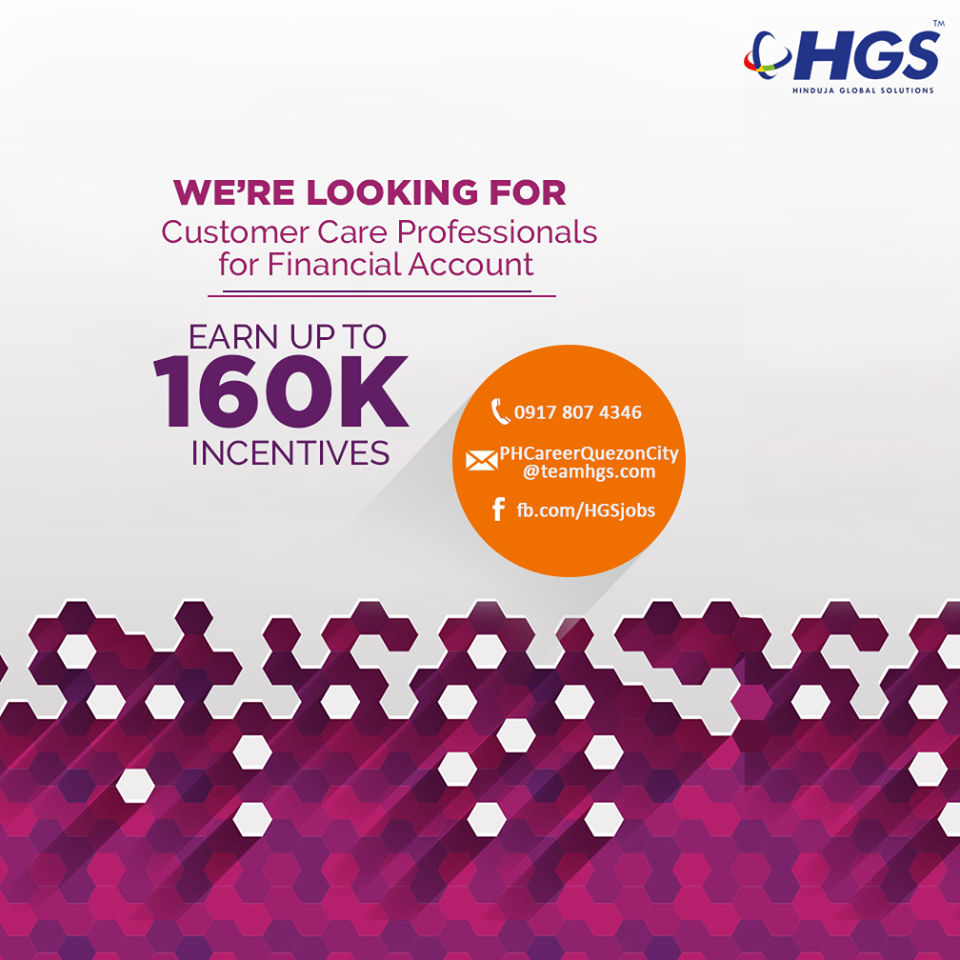 About Hinduja Global Solutions (HGS)
HGS Philippines currently has an employee strength of 6,500+ and operates from Quezon City, Muntinlupa City and Iloilo City. It offers services mainly to clients in the consumer electronics and technology sector. HGS Philippines was envisioned in mid-2004 after HGS acquired a pioneer in the Philippine contact center industry to make its first international foray. From an in-house domestic call center operator, the company was transformed into an international contact center provider after securing major contracts from Fortune 500 banking & financial services and consumer electronics products...