Quantity Surveyor Job Description
Other job titles for Quantity Surveyor
Cost Estimator, Project Estimator, Cost Manager
What does a Quantity Surveyor do?
Quantity Surveyors calculate and manage all cost-related aspects in construction projects. They help to ensure that the construction project is completed within the projective budget. Quantity Surveyors are also tasked to negotiate with suppliers and subcontractors to reduce overall cost of a project in order to ensure the best value for money.
Duties and Tasks:
Prepare tender documents, contracts, budgets, bills of quantities and other relevant documents to be presented to the Site Engineers or clients

Review building, construction, or architectural plans and prepare quantity needs and cost of materials

Create price/forecast of the cost of materials needed as well as feasibility studies

Gather data and quantification to verify progress of accomplishments of the project

Come up with ways to reduce overall cost of a project ensuring best value for money

Measure and value work done on site

Undergo Quantity Take-off and Plan interpretation

Material Submission, Ordering, and Procurement

Supplier/Subcontractor Quotation and Evaluation

Carry out monthly valuation of work in progress including forecasting of final cost and sales
Technical Skills
Knowledge in preparation of Work Breakdown Structure

Report writing

Costing preparation, financial report analysis

Proposal analysis

Bidding proposal preparations

May need basic knowledge of Computer Aided Design (CAD) software

Strong mathematical skills
Other Skills/Requirements:
Negotiation – able to outsource best subcontractors during bidding or tendering stage of project

Planning & Time Management skills

Process orientation

Knowledge of cost control, cost benefit, and risk analysis

In-depth knowledge and understanding of consruction, materials, pricing, and industry
Quantity Surveyor
Quantity Surveyor Salary in the Philippines | Latest Quantity Surveyor Jobs |Explore Similar Careers
Quantity Surveyor Salary in the Philippines
How much does a Quantity Surveyor make?
The average monthly salary of a Quantity Surveyor in Philippines ranges between Php 13,000 - Php 70,000 (median: Php 41,500).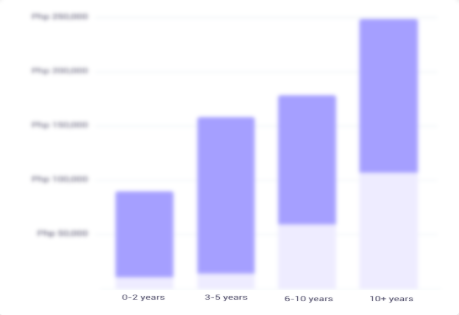 Quantity Surveyor
Quantity Surveyor Skills & Qualifications | Latest Quantity Surveyor Jobs |Explore Similar Careers
Quantity Surveyor
Latest Quantity Surveyor Jobs | Explore Similar Careers