Geodetic Engineer Job Description
Other job titles for Geodetic Engineer
Geodetic Surveyor, Survey Director, Survey Supervisor, Geodetic Advisor
What does a Geodetic Engineer do?
Geodetic Engineers, also known as Geodetic Surveyors measure large areas of the Earth's surface using satellite observations, global navigation satellite systems (GNSS), light detection and ranging (LIDAR), or other precision instruments. They scientifically and methodically process data presented on graphs, plans, maps, charts, and documents.
Duties and Tasks:
Gathering data on-site using surveying instruments

Conduct topological surveys to determine ground elevation dependent grids, geodetic grids, property boundaries, terrain, and elevation

Prepare survey data and survey sheet elevation

Calculate the exact horizontal and vertical position of points on the Earth's surface

Verify mathematical accuracy of collected survey data

Assess quality of control data to determine the need for additional survey data to be used for engineering, construction, or other projects
Technical Skills
Ability to use surveying and mapping equipment (graduated rods, transits, levels, theodolites, fathometers, electronic distance meters, global positioning systems, etc.)

Computer aided design (CAD) software

Surveying software

Map creation software

Blueprint/drawing specifications creation and interpretation

Diagrammatic skills

Solid knowledge in geography

Highly skilled in mathematics and physics
Other Skills/Requirements:
Critical thinking - using logic to identify strengths and weaknesses of plans, explore alternative solutions, and come up with different approaches to problems

Good spatial orientation and depth perception

Attention to detail

Personnel management - ability to motivate and direct people as they work through problems

Good communication skills – written and verbal
Additional Information:
All applicants for registration for the practice of Geodetic Engineering are required to undergo and pass a written technical exam (Article IV, Section 11, RA 8560).
The Geodetic Engineers Licensure Examination is conducted by the Professional Regulation Commission once a year on October. For more details, click here.
Geodetic Engineer
Geodetic Engineer Salary in the Philippines | Latest Geodetic Engineer Jobs |Explore Similar Careers
Geodetic Engineer Salary in the Philippines
How much does a Geodetic Engineer make?
The average monthly salary of a Geodetic Engineer in Philippines ranges between Php 19,500 - Php 35,900 (median: Php 27,700).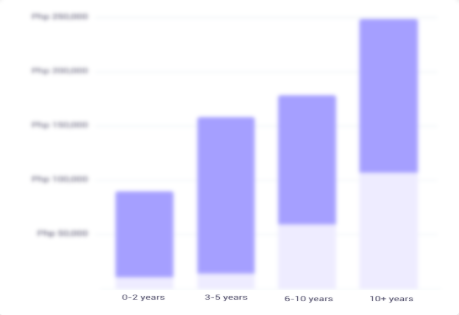 Geodetic Engineer
Geodetic Engineer Skills & Qualifications | Latest Geodetic Engineer Jobs |Explore Similar Careers
Geodetic Engineer
Latest Geodetic Engineer Jobs | Explore Similar Careers