Environmental Engineer Job Description
Other job titles for Environmental Engineer
Sanitary Engineer, Air Pollution Control Engineer, Environmental Analyst, Environmental Manager, Pollution Control Officer
What does anc Environmental Engineer do?
Environmental engineers develop solutions to environmental problems such as unsafe drinking water, public health and air, soil, and water pollution. They research, plan, design, and implement engineering solutions such as water treatment, site remediation, and pollution control technology. Scope of work includes waste treatment, site remediation, pollution control technology, environmental compliance, flood risk and drainage management, water supply and sanitation, and more. Key competencies for this role include technical design, documentation, and project assessment.
Duties and Tasks:
Design systems, processes, or equipment to control, manage, and treat water, air, or soil quality

Gather data to use for assessment and environmental monitoring

Evaluate the environmental impacts of projects

Advise procedures in cleaning up contaminated sites

Collaborate with environmental scientists, planners, hazardous-waste technicians, engineers, lawyers, or other specialists to address environmental problems

Create or update plans, permits, or standard operating procedures

Develop site-specific health and safety protocols

Inspect facilities or programs to evaluate effectiveness and ensure compliance with environmental regulations
Technical Skills:
Solid knowledge of engineering and technology principles

Good knowledge of scientific principles, particularly in biology and chemistry

Able to use scientific and laboratory equipment to collect air, water, and soil samples
Other Skills/Requirements:
Good knowledge of public safety and security

Critical thinking – using logic to identify problems and explore alternative solutions

Organizational, project management, planning skills

Good communication skills – written and verbal
Other Specializations/Sub Disciplines for a Civil Engineer:
Coastal Engineer

Geotechnical Engineer

Transportation Engineer

Water Resource Engineer
Environmental Engineer
Environmental Engineer Salary in the Philippines | Latest Environmental Engineer Jobs |Explore Similar Careers
Environmental Engineer Salary in the Philippines
How much does anc Environmental Engineer make?
The average monthly salary of anc Environmental Engineer in Philippines ranges between Php 25,000 - Php 45,700 (median: Php 36,400).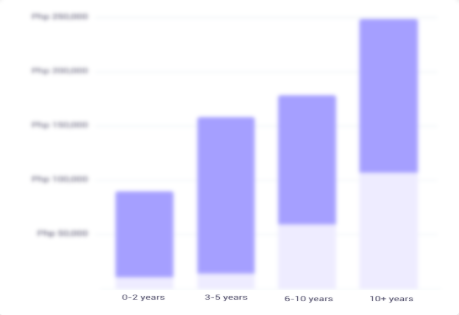 Environmental Engineer
Environmental Engineer Skills & Qualifications | Latest Environmental Engineer Jobs |Explore Similar Careers
Environmental Engineer
Latest Environmental Engineer Jobs | Explore Similar Careers