Chemical Engineer Job Description
Other job titles for Chemical Engineer
Chemist, Research Chemical Engineer, Development Engineer, Process Engineer
What does a Chemical Engineer do?
Chemical engineers design and develop chemical manufacturing equipment and processes for plastics, gasoline, cement, paper and pulp among others. They develop safety procedures, troubleshoot problems with the chemical manufacturing process and conduct product testing. Candidates for this position are expected to be familiar with technical writing, laboratory equipment and CAD and analytics software.

Duties and Tasks:
Conduct research and analyze data from processes and experiments

to develop new and more efficient manufacturing processes

Create safety procedures for handling dangerous or hazardous chemicals

Develop processes to separate components of liquids or gases or generate electrical currents through controlled chemical processes

Conduct tests to monitor performance of processes during production

Identify problems with the manufacturing processes

Evaluate equipment to ensure compliance with safety and environmental regulations

Design measurement and control systems for chemical plants
Technical Skills
Solid background in applied chemistry (chemical composition, structure, properties of substances, chemical processes, etc.)

Knowledge of biochemical/process engineering

Good knowledge of the fundamentals of engineering

Knowledge on the use of laboratory tools and equipment (Bi distillation units, catalytic combustion analyzers, chromatographic scanners, mixers, spectrometers, etc.)

Good Inductive reasoning and researching skills

Good math and physics skills
Other Skills/Requirements:
Critical thinking - using logic to identify strengths and weaknesses of processes, explore alternative solutions, and come up with different approaches to problems

Good knowledge of production and processing

Personnel management - ability to motivate and direct people as they work through problems

Good communication skills – written and verbal
Chemical Engineer
Chemical Engineer Salary in the Philippines | Latest Chemical Engineer Jobs |Explore Similar Careers
Chemical Engineer Salary in the Philippines
How much does a Chemical Engineer make?
The average monthly salary of a Chemical Engineer in Philippines ranges between Php 15,000 - Php 45,000 (median: Php 30,000).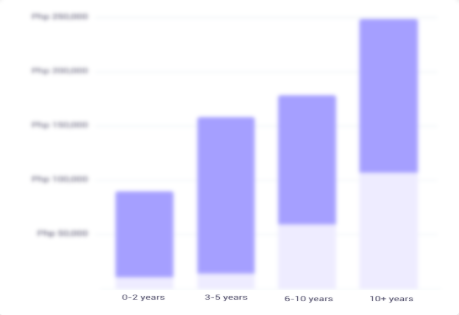 Chemical Engineer
Chemical Engineer Skills & Qualifications | Latest Chemical Engineer Jobs |Explore Similar Careers
Chemical Engineer
Latest Chemical Engineer Jobs | Explore Similar Careers